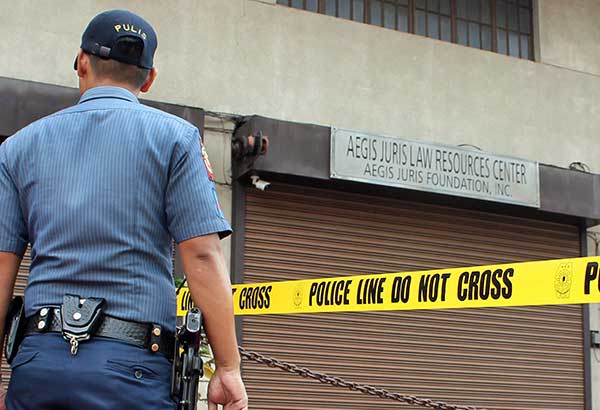 CRIME SCENE: An officer guards the cordoned-off Aegis Juris Resources Center near the UST campus in Manila yesterday. The office, which serves as the fraternity's library, is where the fatal hazing of law student Horacio Castillo III took place. EDD GUMBAN
Solano sings, tags 6 brods in hazing
Paolo Romero
(The Philippine Star) - September 26, 2017 - 4:01pm
MANILA, Philippines — Six members of the Aegis Juris fraternity directly took part in the fatal hazing of University of Santo Tomas (UST) law freshman Horacio "Atio" Castillo III, according to a fraternity member now in police custody as a principal suspect.
John Paul Solano gave the information to members of the Senate committee on public order in a closed-door hearing late Monday.
Police had originally considered Solano a witness in the case until they found inconsistencies in his affidavit, wherein he claimed to have found the 22-year-old Castillo sprawled on a sidewalk in Tondo on Sept. 17.
He had claimed asking the help of a motorist in taking Castillo to the Chinese General Hospital.
The identities of the six, as well as that of the driver of the SUV used to take Castillo to the hospital, were not revealed as Solano has yet to formally submit his sworn statement to the Department of Justice (DOJ) for inquest.
Solano told members of the Senate panel that six Aegis Juris members were with him in the "fraternity library" near the UST campus when he was administering CPR to the "unconscious" Castillo. Also with them was the driver of a black Fortuner, one of two vehicles they used in taking Castillo to the hospital.
The other vehicle was a red Strada pickup later found registered in the name of the father of one of the suspects at large, Ralph Trangia.
The suspect was supposed to tell all that he knew before the committee in open hearing Monday night but he held back after the Manila Police District (MPD) and Castillo's parents – Horacio Jr. and Carmina – filed separate charges of murder, obstruction of justice and robbery, among others, against him and 18 other individuals.
This meant Solano, currently detained at the MPD, was to be immediately subjected to inquest proceedings before the court and therefore would continue to be in detention.
Solano's lawyer, Paterno Esmaquel, a founder of the fraternity, said his client was ready to submit his affidavit with the understanding there would be preliminary investigation first at the DOJ before the prosecution decides whether or not to file charges against him.
Esmaquel told senators that Solano was not arrested but that he voluntarily surrendered to Sen. Panfilo Lacson last Friday, hence he should not be immediately subjected to inquest.
During the hearing, acting chief of the National Prosecution Service Jorge Catalan admitted inquest proceedings were improper.
"He (Solano) mentioned a lot of details. What happened was somehow more enlightening because he told us what happened. There was a tell-all," Sen. Juan Miguel Zubiri told reporters yesterday.
He said his impression of Solano's narrative was that the six fraternity members were "culpable" for Castillo's death.
Solano also disclosed to senators that he has the recording of security cameras in the barangay where he lives to prove that he did not participate in the hazing but was only called Sunday morning to try to save Castillo.
After the executive session, Lacson asked Solano whether it would be alright to relay his story to Castillo's parents. Zubiri went to Castillo's wake after midnight yesterday to tell Solano's version.
"It was bittersweet for them (parents). They want to know what happened but at the same time the story was painful," Zubiri said.
He said the names disclosed by Solano were given to the police to help in the investigation.
No VIP treatment
The MPD, meanwhile, denied giving special treatment to Solano.
"He is inside his cell. You can check him. He goes through ordinary routine that every detainee has to undergo," MPD spokesman Supt. Erwin Margarejo said in a press briefing.
Solano was alone in his 4x4 cell at the homicide section yesterday.
Solano entertained print media, but avoided television crews, saying he had already told them what he had to say.
He said his friends would come and bring him food but he was not allowed to smoke.
When asked if he knew about reports that he would be released for further investigation, he said his lawyer had not told him about it yet.
Margarejo said they have also heard of reports that Solano could be released but maintained "we haven't received any official paper so it remains to be seen."
MPD director Chief Supt.t Napoleon Joel Coronel, however, said he doesn't believe that Solano would be released "because we have filed multiple cases against him."
The MPD has filed murder, perjury, obstruction of justice and robbery against Solano on Monday. Coronel insists they have strong evidence against the suspect.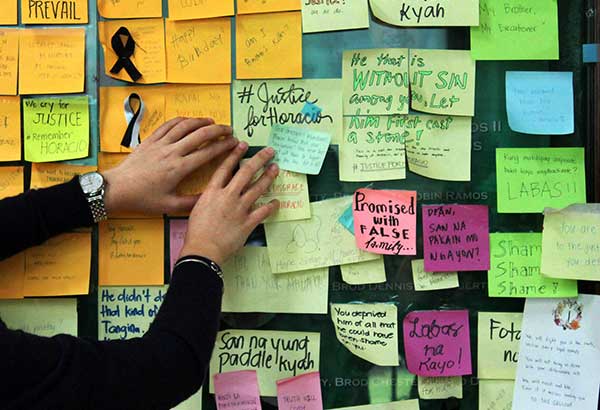 Photo shows messages posted on the Aegis Juris bulletin board.
"We have presented a lot of evidence for the case we filed against Mr. John Paul Solano et al and it is of the appreciation of the court to evaluate the degree of evidence we have presented," he said.
Margarejo said they have two witnesses who can prove that Solano had involvement in the death of Castillo. He said the witnesses were present during the initiation rites.
A ranking official, meanwhile, said that if Solano would be released for further investigation, it should not be until after the burial of Castillo, otherwise "it would lead to public outcry."
Castillo will be buried today at the Manila Memorial Park in Parañaque City.
Gerardo, uncle of Horacio, said his nephew would be buried at his grandfather's mausoleum after a funeral mass in the afternoon at the main church of the Santuario de San Antonio, Forbes Park in Makati City.
Gerardo, meanwhile, took to social media and called for justice for Horacio with hashtag #JusticeForHoracio.
A photo of Castillo's empty classroom seat posted on Facebook by one Sab Amantillo Borromeo had trended.
Horacio's seat would remain empty for the whole semester "and we'll bring you flowers every day," Borromeo said.
Borromeo's post got 7,500 likes, 6,100 sad and 761 heart emoticons. It was shared 3,700 times and drew 133 comments, mainly condolences.
At UST, students and alumni condemned the death of Castillo and called on the university to abolish the Aegis Juris fraternity and fire or expel everyone involved, philstar.com said in a report.
"This is clearly a sadistic and perverted sense of brotherhood. Only persons with twisted and sociopathic minds would willingly beat up their brother or any person for that matter to the point of death," the students and alumni said in a statement.
The group also demanded that the UST comply with police investigations "without reservations" and continue updating the public on the progress of the investigations.
In its statement, the group also assailed UST for being "tight-lipped" on Castillo's death.
"The University of Santo Tomas is still tight-lipped on the matter, consistent with its adherence to a culture of silence whenever major issues arise. We believe that the university's sole statement of condolence and condemnation is mere lip service," the group said, according to the philstar.com report.
The students and alumni also urged UST to implement stricter policies on the recruitment of organizations and release the list of members of Aegis Juris and its sister sorority Regina Legis et Juris. – Rey Galupo, Ghio Ong