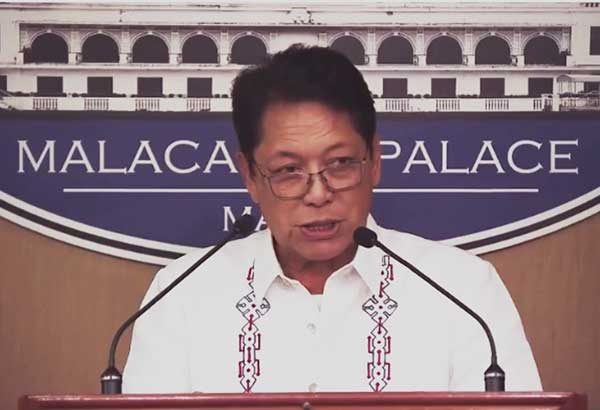 Labor Secretary Silvestre Bello said the clash in Batangas on Sunday, wherein more than 500 people near Mt. Banoy evacuated to safer areas to avoid getting caught in the crossfire, "may have some negative repercussion on the peace talks' resumption." Facebook Screengrab/Presidential Communications, File
'NPAs in Batangas may derail talks'
(The Philippine Star) - September 26, 2017 - 4:00pm
MANILA, Philippines — Fighting between government and rebel forces in Batangas could derail efforts to end the decades-long insurgency, according to Labor Secretary Silvestre Bello III, who chairs the government peace panel.
Bello said the clash in Batangas on Sunday, wherein more than 500 people near Mt. Banoy evacuated to safer areas to avoid getting caught in the crossfire, "may have some negative repercussion on the peace talks' resumption."
But he said chances of resuming the peace talks are "better than before."
"Though I have not talked with the President yet, I have heard him over the radio and saw him on TV that he is now open to the formal resumption of peace negotiations, and the NDF also came out with the same statement," Bello said in an interview.
But with the Batangas incident, Bello fears that President Duterte would not issue an order to resume the talks with the officers of the Communist Party of the Philippines, New People's Army and National Democratic Front (CPP-NPA-NDF).
Malacañang is monitoring developments in Batangas as presidential spokesman Ernesto Abella said the Armed Forces of the Philippines "is on top of the situation" and would provide information as soon as it is available.
The Army's 202nd Infantry Brigade reported that members of the Air Force's 730th Combat Group and the Batangas Provincial Police public safety company were conducting security operations when they encountered the rebels who tried to set up camp on Mt. Banoy.
Bello noted that The Hague joint declaration clearly states that both parties should provide the talks with an enabling or conducive atmosphere, which may include a declaration of ceasefire.
He maintained that the peace negotiations were just temporarily suspended and not fully terminated, adding that both parties have not issued any official notification of termination of the peace talks even after the 5th round of negotiations was aborted in July.
"Until any of the parties sends a notice of formal termination, the peace negotiation stays alive," Bello said.
Although confident on the resumption of the talks, he could not as yet give a definite date as he stressed that it would be better to wait for Duterte's instructions.
As of yesterday, Senior Supt. Randy Peralta, Batangas police director, placed all police units under heightened alert and ordered them to conduct checkpoint operations on a 24-hour basis to block the exit of about 30 rebels.
"A group of intelligence units are also tasked to monitor and visit hospitals in their area where a number of wounded communist rebels fled after the clash," Peralta told The STAR.
He said the situation in barangays Talumpok Silangan, Talahib Pandayan, Masagitsit and Banalo, as well as other areas near Mt. Banoy, returned to normal. Classes and small business operations were also restored, he added.
In North Cotabato, rebels also posted yesterday on Facebook a "proof of life" video footage of their captive, PO1 Bristol Catalan.
Catalan was seen talking with his family, including his wife, Gigie, who told reporters that she was consoled seeing her husband alive.
The policeman was on a motorcycle en route to Makilala town, his place of assignment, when the NPA rebels from Kidapawan City flagged him down and took him away.
He told his family not to worry and that he is being treated well by his captors.
Local NPA spokesman Rigoberto Sanchez said Catalan, whom he called a "prisoner of war," would be treated humanely while in captivity.
He added that the military's continuing tactical maneuvers against the NPA in North Cotabato and nearby provinces are stifling negotiations for Catalan's release.
The Makilala local government unit is reportedly trying to secure Catalan's release through backchannel initiatives. – Mayen Jaymalin, Christina Mendez, Ed Amoroso, John Unson