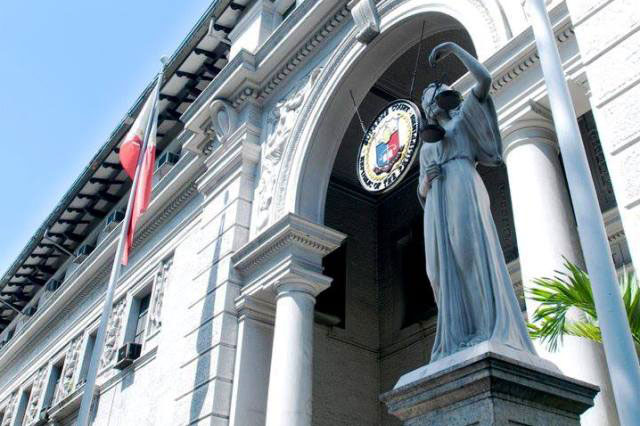 Judge Exequil Dagala of the Dapa-Socorro, Surigao Municipal Circuit Trial Court was cleared by the high court of involvement in illegal drugs in a ruling last December. File
SC dismisses Surigao judge tagged in drug trade
Edu Punay
(The Philippine Star) - September 26, 2017 - 4:00pm
MANILA, Philippines — A Surigao del Norte judge named by President Duterte in his narco-list last year has been dismissed by the Supreme Court (SC) for immorality and grave misconduct.
Judge Exequil Dagala of the Dapa-Socorro, Surigao Municipal Circuit Trial Court was cleared by the high court of involvement in illegal drugs in a ruling last December.
But in a 21-page decision released yesterday, the SC ordered Dagala's dismissal from the judiciary over an administrative case.
Dagala was found guilty of immorality and gross misconduct after he was caught on video carrying an M-16 rifle and for siring a child with a mistress, according to the SC.
The high court imposed on Dagala the penalties of perpetual disqualification from re-employment in public office and forfeiture of his retirement and other benefits except accrued leave credits.
The dismissal stemmed from a letter-complaint filed before the Office of Ombudsman in 2015 by a resident of San Isidro, Siargao Island who had witnessed an altercation between Dagala and his neighbors over the ownership of his neighbor's lot and the trees planted there.
The complainant submitted to the ombudsman a recorded video of Dagala shouting invectives while brandishing an M-16.
Upholding the findings of the Office of the Court Administrator (OCA), the SC ruled that there was sufficient evidence to hold the judge accountable for gross misconduct.
Dagala's actuations as recorded in the video were "unacceptable for a member of the bench and should merit a finding of administrative liability," the high court said.
The SC also affirmed the OCA's finding that the judge was guilty of immorality for siring a child outside of marriage.
Dagala, in his affidavit, admitted that he was married but was separated and has three children with three different women.
The SC noted that immorality is a valid ground for sanctioning members of the judiciary.
"We understand the undeniable sadness of a failed marriage… We understand that judges and justices are also human, and are naturally inclined to search for what is good and what gives meaning, including happy and fulfilling relationships… Nevertheless, choices are made within particular contexts and in consideration of duties and obligations that must be honored," read the ruling.
"As much as we commiserate with Judge Dagala, we remain a court of law with a mandate to dispense even-handed justice," the SC pointed out.
Dagala was one of four judges tagged by Duterte in the illegal drug trade last year. The three others were Adriano Savillo of the Iloilo City Regional Trial Court, Domingo Casiple of Kalibo, Aklan RTC and Antonio Reyes of Baguio RTC.
The SC has conducted fact-finding investigation on the charges and cleared Dagala, Savillo and Casiple last December.
Last February, the high court initiated an administrative case for corruption against Reyes.