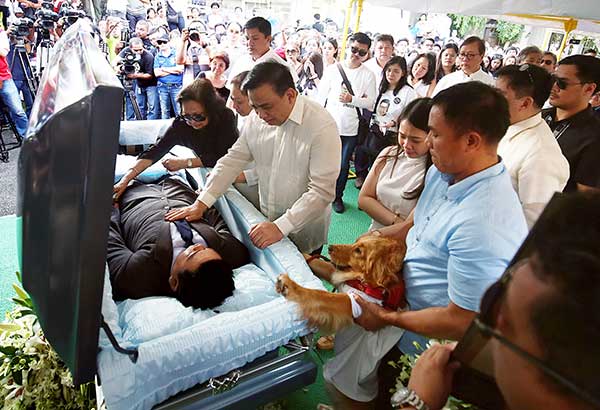 Horacio Castillo III's parents Horacio Jr. and Carmina, grandmother Teresita, sister Nicole and dog Lega bid farewell to the slain UST law student at the Manila Memorial Park in Parañaque City yesterday. MIGUEL DE GUZMAN
Goodbye, Atio: Kin lament 'brutal murder'
MANILA, Philippines — Relatives and friends bade a tearful goodbye yesterday to Horacio "Atio" Castillo III, with his father lamenting that the Aegis Juris fraternity had "brutally murdered" his "perfect son" and robbed the victim of his dreams.
Atio's remains were brought yesterday to Santuario de San Antonio Parish in Makati City for a funeral mass. He was laid to rest at the mausoleum of his grandfather at Manila Memorial Park in Parañaque City later in the afternoon.
"He was brutally murdered at the hands of his initiators, his so-called fraternity brothers robbed his dreams and aspirations," the elder Castillo said in his farewell speech during the funeral mass.
"He was a good son, a perfect son, the best son any parent could ever have."
The elder Castillo asked Atio to pray for them and help them find justice for his death and other victims of hazing. He also wished eternal peace for his son.
"Horacio, we now let you go because we love you so much and we want you to be forever happy. We will miss you terribly, but we will be OK. We will miss you, but now go to the light. Don't worry about us, we will be OK," he said.
"Atio, thank you for being our son. Thank you for your love. Thank you for your care. Thank you for your strength. Thank you for your hugs and kisses. Thank you for your laughter. And thank you for the smile. We will miss you," he added.
Fr. Winston Cabading was the mass celebrant. During his homily, he took a swipe at the Aegis Juris.
"Brotherhood that seeks harm does not come from God, but from evil," the priest said.
Atio's relatives and friends also shed tears as they paid their last respects to him during the funeral mass.
They wore black and white shirts with the hazing victim's photo and the printed words "Justice for Horacio." They also released 300 black and white butterflies as a symbol of Atio's release.
Even Atio's dog, Lega, donned a "#JusticeForHoracio" shirt as the golden retriever paid its last respects to him. When Atio's crypt was closed, Lega did not stop barking.
Atio died during the "welcoming rites" of the Aegis Juris fraternity on Sept. 16, barely two months after he enrolled at the University of Santo Tomas faculty of Civil Law. He was 22.
In the morning of Sept. 18, Atio's mother Carminia received an anonymous text message, saying that her son was at the Chinese General Hospital. The family rushed to the hospital and learned that Atio was dead upon arrival at the hospital.
The parents of Atio are now open to consider John Paul Solano, who brought Atio to hospital, as a state witness should he spill the beans on his fraternity brothers.
Carmina, who previously doubted Solano's credibility, said her family had a change of mind because Solano can help them seek justice for her son.
"Yes, but he should tell all," Carmina said in a television interview Tuesday morning.
However, the Castillo family refused to comment on the decision of the Department of Justice to temporarily release Solano.
"Let our lawyers decide on that," Atio's uncle Gerry Castillo said.
But the Castillo family has welcomed the decision of another suspect, Jason Rodolfo Robiños, to surrender before the Manila Police District.