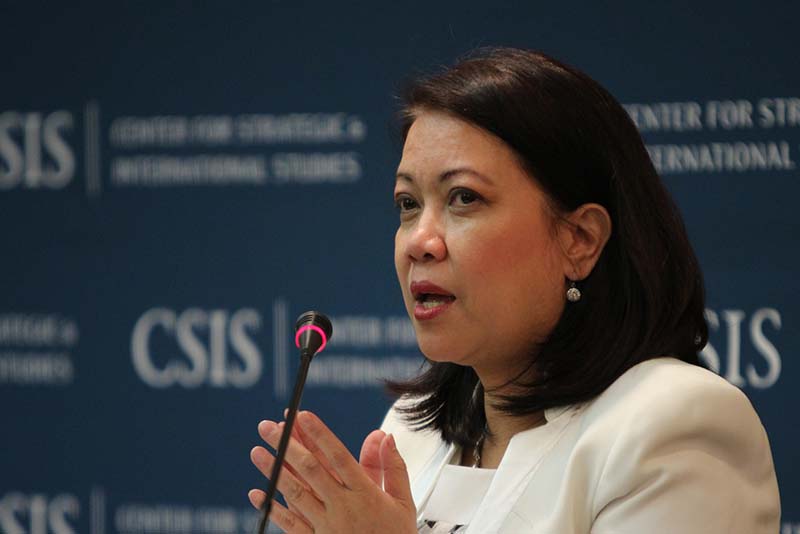 In this December 2012 photo, Chief Justice Maria Lourdes Sereno speaks at a CSIS forum. Sereno is the subject of an impeachment complaint filed by lawyer Larry Gadon. CSIS/CC BY-NC-SA
Sereno lawyers ask to cross-examine 'resource persons' in impeachment rap
(philstar.com) - September 28, 2017 - 4:14am
MANILA, Philippines — Lawyers for Chief Justice Maria Lourdes Sereno, who is facing an impeachment complaint at the House of Representatives, want to be able to cross-examine "resource persons" at coming hearings.
In a three-page letter addressed to the House Committee on Justice, Sereno's team of lawyers, asked that the "persons who would testify during the [impeachment] hearing would not be considered mere 'resource persons.'"
The camp stressed: "Those persons would be full-fledged witnesses, who would be examined by a proponent, and cross-examined by an opponent."
The complaint filed lawyer and defeated senatorial candidate Larry Gadon has hurdled the HOR's Committee on Justice, which voted to find the complaint sufficient in form and substance.
Sereno's legal team, led by lawyer Alex Poblador, reiterated their earlier pleading to "immediately dismiss" the complaint "even without hearing," but added that should a hearing be conducted, their team must be allowed to confront and cross-examine Gadon's witnesses.
"Section 6 of the House Rules of 'submission of evidence' during the hearing, and the Honorable Committee has the 'power to issue compulsory processes for the attendance of witnesses and the production of documents and other related evidence'," they said.
"Unlike other rules of procedure for the determination of 'probable cause, the House Rules do not prohibit the parties from examining and cross examining witnesses," they added.
Sereno's camp also asked Oriental Mindoro Rep. Reynaldo Umali, committee chairman, to confirm reports quoting him that it's the chief justice's "constitutional right to confront the witnesses."
Sereno's lawyers said "if he did make these statements…then she [Sereno] should be allowed to cross-examine those witnesses through her counsel."
The y stressed that in the particular stage of an impeachment procedure, the Committee members are currently "judges or quasi-judges whose duty like the 'investigating officer' in preliminary investigations, is to determine probable cause." They said that, therefore, "it would "not be acceptable" to conduct the cross-examination.
"We respectfully seek confirmation from the Honorable Committee of our understanding of nature of the 'hearing' that may be conducted under Section 6 of the House Rules, and that all persons testifying as witnesses or s 'resource persons' against the Chief Justice may be cross-examined by her counsel on her behalf," the camp added.
Gadon has accused Sereno of committing culpable violation of constitution, corruption, high crimes and betrayal of public trust. Attached to Gadon's complaint are Supreme Court (SC) resolutions and temporary restraining orders that he claims Sereno "falsified."
In several interviews, Gadon said that there are at least three justices who will be willing to testify against Sereno, but he has yet to divulge the names of the said magistrates.
Sereno's camp has earlier asked the Committee to dismiss Gadon's complaint, in n 85-paged Verified Answer filed on Sept. 24, for "lack of sufficient grounds and for lack of probable cause."