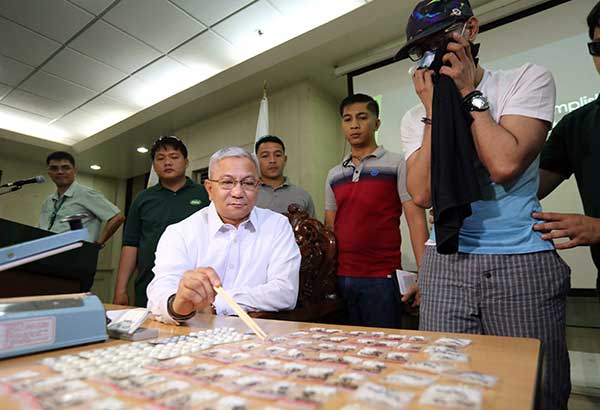 In this September 19, 2017 photo, PDEA chief Aaron Aquino (left) presents alleged online drug dealer Jovet Atillano in a press conference. Boy Santos, File
PDEA confirms monitoring activities of Chinese triads tagged by Duterte
(philstar.com) - September 28, 2017 - 9:07am
MANILA, Philippines — The Philippine Drug Enforcement Agency on Thursday confirmed that it has monitored the activities of two international syndicates that President Rodrigo Duterte said was behind the proliferation of illegal drugs in the country.
On Tuesday night, Duterte said two international syndicates were running the drug trade in Southeast Asia and called for a closer cooperation between Manila and Washington to combat their narcotics problems.
Duterte said the Bamboo triad of Taiwan and 14K of Hong Kong were shipping their drugs to Manila before sending them to the US.
Asked if his agency has monitored such activities by the two criminal groups, PDEA Director General Aaron Aquino, in a text message to Philstar.com, said: "Yes, of course."
"We support the statement of PRRD," Aquino added, referring to the president by his initials.
READ: Defense chief unaware of source of Duterte info on Chinese triads
Countering Duterte's claim, the Taipei Economic and Cultural Office (TECO) earlier said that Taiwan has been working with the Philippines in its fight against illegal drugs for years.
"Taiwan had never been the source of illegal drugs entering the country," the TECO said in a statement.
The TECO added that Taiwan will continue to work with Philippine authorities to enhance cooperation and eliminate transnational drug trafficking.
For its part, the Chinese Embassy in Manila admitted that some Chinese nationals might be involved in the illegal drug trade. Nonetheless, it vowed that Beijing would not protect its nationals who are involved in the narcotics trade.
READ: China, Taiwan deny being source of drugs in Philippines
'Not blaming any country'
Meanwhile, Malacañang also on Thursday clarified that the president was not accusing any country when he claimed that the Philippines now serves as a transshipment of narcotics to the United States because of the "Bamboo triad."
"He (Duterte) has a TV interview I think yesterday. He did say that he was not blaming any particular country, but that there was organized crime that was behind all this drug traffic. And he did refer to Bamboo triad," presidential spokesperson Ernesto Abella said in a press conference.
"This is speculation as for my part, which I don't normally do. But as per his statements, he has... credible international sources," Abella added.
Duterte's son, Davao City Vice Mayor Paolo Duterte, and son-in-law, lawyer Mans Carpio, are allegedly involved in the shipment of shabu worth P6.4 shipment from China. The Senate blue ribbon committee is currently looking into the alleged links of the younger Duterte and Carpio with the drug smuggling.
Critics claim that Duterte's war on drugs has encouraged summary executions and abusive practices. Duterte has denied condoning criminal acts and has promised to "slaughter" policemen involved in extrajudicial killings.
Duterte also challenged the opposition to find a single policeman who could prove that he ordered the killing of innocent civilians.