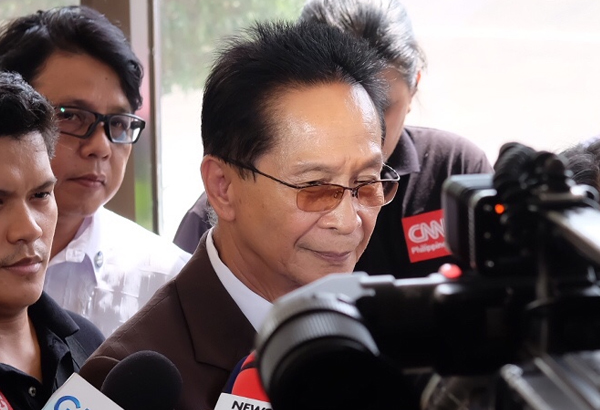 Lawyer Salvador Panelo reminds Overall Deputy Ombudsman Arthur Carandang to be prudent because he might face administrative sanctions for disclosing details of President Rodrigo Duterte's bank accounts. Philstar.com/Denison Rey Dalupang
Overall deputy ombudsman shouldn't disclose Duterte's bank records — Panelo
(philstar.com) - September 28, 2017 - 12:29pm
MANILA, Philippines — Chief Presidential Legal Counsel Salvador Panelo on Thursday cautioned Overall Deputy Ombudsman Arthur Carandang from disclosing details of the chief executive's bank accounts.
Panelo said that investigatory records compiled for law enforcement purposes should not be disclosed while the proceedings are ongoing.
READ: AMLC denies giving ombudsman Duterte wealth report
He added that any premature disclosure of records "deprives a person of a right to a fair trial."
"We would remind the overall deputy to be prudent because he may face administrative sanctions," Panelo said.
"We're just reminding him of their own internal rules, rules implementing the law. He might have forgotten it."
ABS-CBN in a news report cited Carandang saying that the Office of the Ombudsman has received Duterte's bank records from before he became president from 2006 to 2016 and that they show millions of pesos being transacted in joint accounts with his children.
Duterte's bank records were provided by the government's Anti-Money Laundering Council.
"We can confirm that we received bank transactions from AMLC," Carandang said.
"There were P40 millions... P50 million... there were many."
READ: Official on Duterte bank records: There were millions
According to Section 3 (f) of the Rules Implementing the Code of Conduct and Ethical Standards for Public Official and Employees, government agencies should not provide official information or records to the public if it would disclose investigatory records complied for law enforcement purposes or information which if written would be contained in such records or information would:
(i) interfere with enforcement proceedings;
(ii) deprive a person of a right to a fair trial or an impartial adjudication;
(iii) disclose the identity of a confidential source and, in the case of a record compiled by a criminal law enforcement authority in the course of a criminal investigation, or by an agency conducting a lawful national security intelligence investigation, confidential information furnished only by the confidential source; or
(iv) unjustifiably disclose investigative techniques and procedures.
Unperturbed Duterte
Despite the allegations hurled at the president, he remains "not perturbed," Panelo said.
"It is noteworthy to mention that the alleged bank records of the president, assuming for the sake of argument that they are correct, do not necessarily indicate that he is hiding money in the total amount of more than P1 billion and that the same is ill-gotten wealth," he said.
READ: Duterte says he inherited millions disputing unexplained wealth allegation
The chief presidential legal counsel said that since the alleged amount was computed based on "in-and-out" bank transactions of Duterte's family, it does not "sufficiently prove the president has accumulated money in the total amount of more than P1 billion at any given time.
Trillanes on Thursday said he felt vindicated after the ombudsman confirmed the documents submitted to them by AMLC on the president's alleged billion-peso bank accounts were "more or less" similar to the ones he presented.
Trillanes first alleged that Duterte had unexplained wealth during the presidential campaign last year.
In February, he reiterated the issue, saying Duterte had not yet revealed details of more than P2 billion he allegedly kept in bank accounts as a former city mayor.
Duterte's fiercest critic had challenged the chief executive to sign a bank secrecy waiver to allow investigators to probe into his bank records or resign.
Duterte repeatedly refused Trillanes' challenge and denied any wrongdoing.
READ: Duterte wants to probe agency investigating his wealth
He vowed to resign if anybody could prove he or any of his children were involved in corruption.
"In any event, the president is clear that he will resign if it is proven that he has such amount of hidden wealth. Such confidence only goes to show that the president has nothing to hide," Panelo said.
In a statement, presidential spokesperson Ernesto Albella said Duterte "respects the internal processes of the Office of the Ombudsman as an independent body and trusts its impartiality in the conduct of its fact-finding duty."