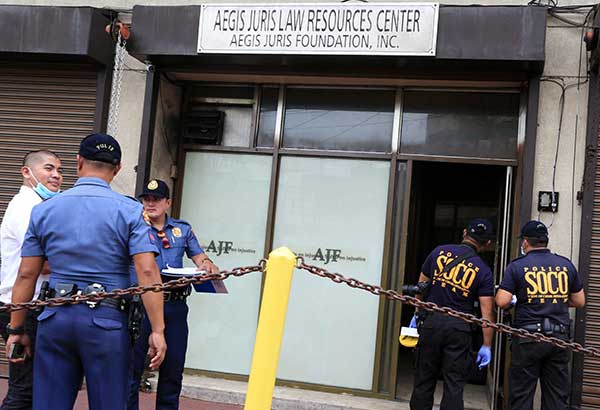 Police officers forcibly open the Aegis Juris office in Sampaloc, Manila to gather evidence on the hazing of UST law student Horacio Castillo III yesterday. EDD GUMBAN
'Very powerful law firm representing UST fratmen'
MANILA, Philippines — Family and friends of hazing victim Horacio "Atio" Castillo III are gearing up for a big fight against a "very powerful law firm" as they launched a fund drive to help in the effort to have his killers prosecuted and convicted.
"There was a go fund for Atio, the only reason because … we are going to fight a very, very powerful law firm," Atio's uncle Gerardo told reporters on Wednesday. He did not name the law office.
The 22-year-old Castillo was buried on Wednesday at the Manila Memorial Park in Parañaque, 10 days after doctors at the Chinese General Hospital declared him dead on arrival due to cardiac arrest triggered by hazing injuries inflicted by members of the Aegis Juris fraternity.
Gerardo said they would exhaust all legal remedies to ensure justice for Castillo, a freshman law student at the University of Santo Tomas.
"I will get justice for Atio even if he's gone. I cannot bring him back," he said.
Atio's godfather David Amor appealed to the public for help in sustaining the people's awareness of the case.
He said donations may be deposited in BDO savings account Ramon Jose Adrian V. Almeda and Robert Anthony Villamor with account number 008-010-193602.
For international donations, Filipinos abroad may get details from the "Justice for Horacio" official Facebook page and visit the "Go Fund Me" page.
Amor, a high school classmate of Horacio's father and namesake, said that they have agreed with their other classmates in the Colegio San Agustin in Makati City to raise at least P1 million.
"They (Castillos) have formidable opponents whose resources are big," Amor said.
He also urged the people to continue the discourse on Atio's death.
Gerardo also said Atio's death spelled the beginning of the end for Aegis Juris.
"You've lost a great boy. You've lost a great member. You've lost a great neophyte. Can you imagine if you did not kill him? He would have made your fraternity great. But the problem is, it's the opposite," he said.
"This is the end of your fraternity, believe me. This is the end of it. I don't know if any neophyte will ever join your organization. You've lost a good man who could have been on top of Aegis Juris, if you had not killed him," he added.
Inactive for years
Amid allegations of cover-up, UST law dean Nilo Divina again denied having knowledge of Aegis Juris' hazing activities, including the one that killed Castillo.
"As I have said many times, since I took a leave of absence eight years ago, I have not attended any event or activity or meeting of Aegis Juris," Divina told The STAR in a text message.
"I was not aware of the hazing incident until I received unconfirmed reports on Sunday afternoon (Sept. 17) about the death of a student allegedly due to hazing. I got confirmation of the incident only when the news came out the following Monday," he added.
Divina issued the statement after Sen. Grace Poe – vice chair of the Senate committee on public order – voiced suspicion on the actions of Divina and other fraternity leaders after they learned of Atio's death.
"He (Divina) must prove and explain all he knows of what happened. He claimed to have gone on leave from the fraternity but it seems impossible that he did not know what is happening," Poe said at a recent Senate hearing.
"I believe there is really a cover-up as their answers during the hearing were evasive and I find it difficult to believe that senior members of the fraternity do not know the prevailing culture in the organization," she added.
Divina also denied giving permission to the fraternity to use his name and photo in its recruitment brochures.
At the Senate hearing last Monday, the dean also said he does not know who owns the Aegis Juris fraternity foundation office where the alleged hazing happened.
Sen. Panfilo Lacson, chairman of the Senate committee on public order, said a "cover-up is very evident" in the case, although he was quoted as saying that they have yet to establish if Divina is involved.
Meanwhile, police yesterday recovered at least three paddles inside the Aegis Juris Law Resource Center, or the "frat lib" where Castillo was beaten.
A source said police did not find traces of body fluid on the paddles or any indication they had been used.
It was the first time investigators entered the apartment unit since the lifeless Castillo was brought to Chinese General Hospital on Sept. 17. It is located on Laong Laan corner Navarra Streets in Sampaloc near UST. The search began at 11 a.m.
"They were clean, for me there was no sign that they were used," he said.
Also found inside were unfinished food and alcoholic drinks – already spoilt. Another source said the place could not be said to be in disarray.
"'Yong gulo na normal (A mess that's normal)… Hindi ko naman masabing maayos (but I can't say it's spic and span)," a source said.
The "frat lib" has two rooms, the source described, a receiving area and a library with a "very impressive" collection of books.
"A lot of questions will remain unanswered. There's no telling evidence. It can only be established that he (Castillo) was here," he said.
MPD spokesman Supt. Erwin Margarejo stressed, however, they still consider the "library" as the place where the hazing of Castillo took place.
There would be a possibility that police would go back to the frat lib anytime as the search warrant issued by a court in Manila is valid for 10 days, he said.
He added they were able to recover "object and forensic evidence" which would still be processed.
Barangay chairman Ruby Perez said their 16 CCTVs did not capture any sign of hazing rites inside the unit on the night of Sept. 16. She added they had never received any complaint against the property, as "it is just a library." – Ghio Ong, Janvic Mateo