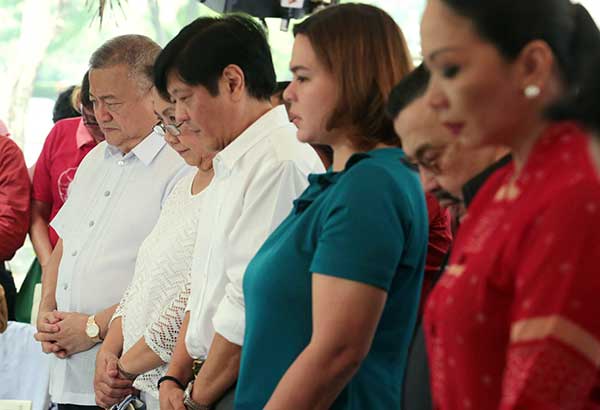 Davao City Mayor Sara Duterte, Manila Mayor Joseph Estrada and former senator Ferdinand 'Bongbong' Marcos join Narciso Santiago during the commemoration of the first death anniversary of the latter's wife, former senator Miriam Santiago, at the Loyola Memorial Park in Marikina yesterday. MICHAEL VARCAS
One year after her death, Miriam's magic lives on
MANILA, Philippines — Friends, relatives and members of youth groups that supported the late senator Miriam Defensor Santiago during her presidential campaign yesterday came together to remember the "Miriam Magic" during the commemoration of the first anniversary of her death.
Presidential daughter and Davao City Mayor Sara Duterte, former president Joseph Estrada and former senator Bongbong Marcos paid their respects to Defensor at the Loyola Memorial Park in Marikina City.
Lin Defensor-Evangelista, one of the younger siblings of the late senator, said she was not surprised with the outpour of support for her sister even after a year of her passing.
"Once she's there you cannot take her away. She is there forever. She has a mind that is incomparable," Evangelista said.
Marcos remembered the late senator fondly and said that he was honored to be given the tribute of flattery when Defensor chose him as her running mate in the 2016 elections.
He said the anniversary of the senator's passing is a good time to remember the life and works of the late senator, whose advocacies primarily revolved around the youth during her later years.
"The advocacies she fought for were for the national interest and the Filipino people. These advocacies we should remember and continue to fight for, they are noble causes that are for the Filipinos. That is what we remember today," he said.