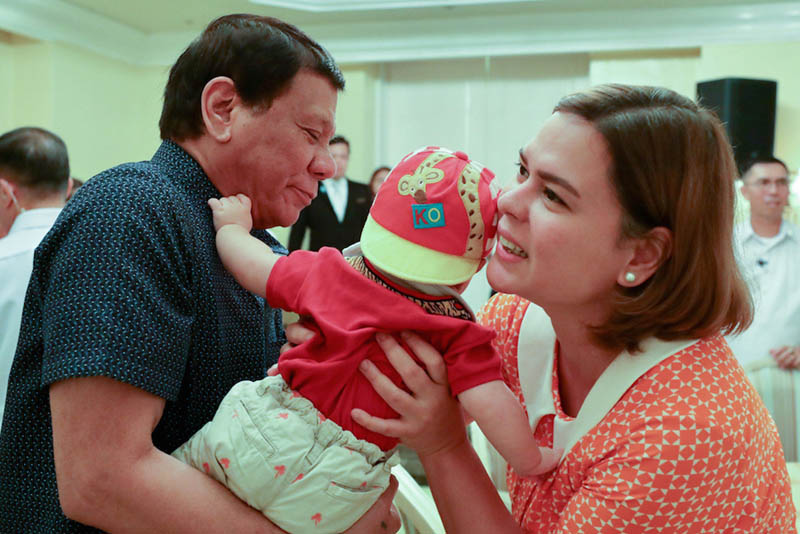 In this Sept. 18, 2017 photo, President Rodrigo Duterte spares time for his grandson to Davao City Mayor Sara Duterte-Carpio, Marko Digong on the sidelines of the 6th Mandatory Continuing Legal Education Accredited National Convention of Public Attorneys opening ceremony at the Tent City in Manila Hotel, Manila. PPD/Richard Madelo
Duterte admits idea to have Sara succeed him a 'joke'
(philstar.com) - September 30, 2017 - 4:27am
MANILA, Philippines — President Rodrigo Duterte last week told reporters that no better candidate could succeed him but his daughter, but on Friday he dismissed the controversial remark as another one of his jokes.
Duterte cited an unnamed group, which he said wanted someone like him to assume presidency.
RELATED: Rody eyes daughter Sara as successor
"They're talking about me, for somebody like me to replace when I'm... so binira ko. Sabi ko gusto ninyong, pero babae to, pero manipa to, manuntok to, manampal, gusto ninyong ganoon ang presidente? Si Inday," Duterte told Erwin Tulfo on public television network PTV. (I told them, there's a woman, but she would kick, punch and slap others, whom you might like to become president? That would be Inday.)
Duterte's daughter Sara, whom he calls Inday, is the mayor of Davao City and among those who urged him to run for president.
Duterte claimed Sara shuns politics, but had no choice but to take his place to run the city. Duterte first filed for candidacy for another term as Davao mayor in 2015 before the 2016 elections, but made a seemingly last-minute decision to run for president.
Sara instead ran for Davao mayor. Duterte, meanwhile said Sara, who won the mayoral post on a landslide, wanted to quit politics over the past year.
But he stopped her. "Anak nang... e 'di napabalik, lipad na naman ako doon, 'Anak 'wag mo namang gawin 'yan, mapahiya tayo sa tao." (Son of a... so I flew to Davao and told her, 'Don't do that, it would be embarrassing.')
The president is known for making off-color remarks and controversial pronouncements that would later on be dismissed as a joke or taken out of context by his spokespersons.
Duterte's banner campaign since becoming president last year was a brutal war on drugs that has so far killed thousands of drug suspects in police operations. Thousands more were killed by unknown gunmen in unexplained incidents. — Camille Diola