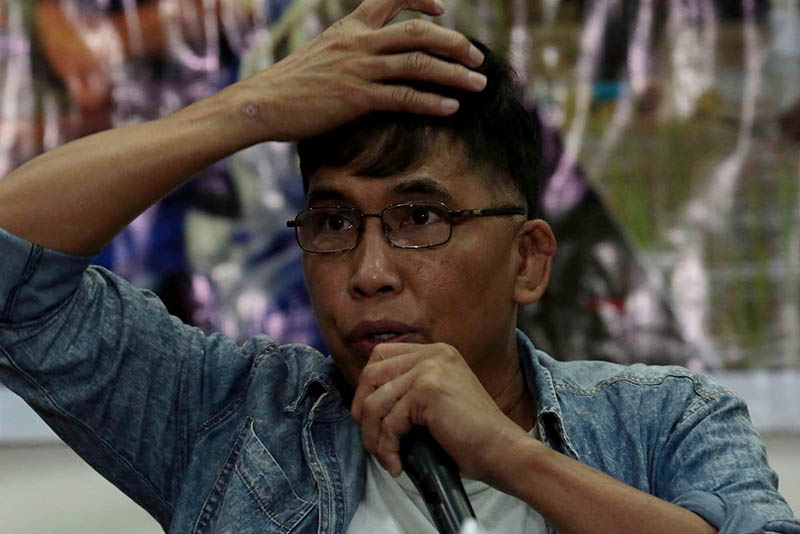 Cab driver Tomas Marleo Bagcal gives an account of the killing of teenager Carl Arnaiz at a news conference on Sept. 10, 2017. Bagcal appeared before the Senate on Monday, Oct. 2, 2017. STAR/Michael Varcas
Cabbie in Carl Arnaiz case faces Senate inquiry
(philstar.com) - October 2, 2017 - 2:43am
MANILA, Philippines — Tomas Bagcal, the taxi driver who said he was held up by Carl Arnaiz in Caloocan last month, gave senators more details on the incident on Monday.
Bagcal, testifying at a Senate hearing into teenage deaths in the government campaign against illegal drugs, said that he had been hailed by two males on August 18 and told to head to 5th Avenue in Caloocan City.
Bagcal had previously said that he only had one passenger when he was robbed. On September 10, Bagcal held a press conference to disavow supposed statements that he gave police, but still did not mention that the person who robbed him had a companion.
"Biktima talaga ako ng isang holdapan. Itong tao na nang-holdap sakin nahuli ko with the help of the tambay," Bagcal said then.
READ: More questions raised as cabbie says Carl Arnaiz killing 'scripted'
He said the elder of the two males told him to keep driving when they got to the Light Rail Transit station on 5th Avenue until they were near a tricycle loading area. He said that was when his passenger declared a hold up.
He said the passenger then pointed a knife behind his ear. The taxi driver had initially said that he was robbed by a passenger armed with a cal. 38 handgun.
"Sinalag ko yung kutsilyo kaya may sugat yung kamay ko," Bagcal, who said that bystanders helped him subdue the passengers, whom he turned over to a nearby police station.
READ: PAO chief: Cabbie in Carl, Kulot slays not credible state witness
He said the younger passenger kept insisting that he was not a robber and that he only rode along.
The companion may be Reynaldo "Kulot" de Guzman, Arnaiz's last known companion before he went missing. The police still consider De Guzman missing although his parents have already buried a body recovered in a creek in Gapan, Nueva Ecija that they identified as their son's despite a DNA test that suggested samples do not match.
Public Attorney's Office Chief Persida Rueda-Acosta has already said Bagcal lacks the credibility for admission into the Witness Protection Program.
Acosta cited the inconsistencies in the statements given by Bagcal, who turned himself in to the National Bureau of Investigation after being under protective custody of non-government organization Rise Up for Life and for Rights.
"We've heard five versions of the story from him. In his first version, he said the robbers used a handgun and then it later became a knife. He also keeps on changing the actual time of the incident," the PAO chief told reporters in an interview at the Department of Justice.
"How can you place him under the WPP if he is not telling the truth, and he is inconsistent with his statements? Real witnesses, no matter where the court is, no matter where he is and when, he will testify and what he will say will not change at all," she pointed out. — Jonathan de Santos