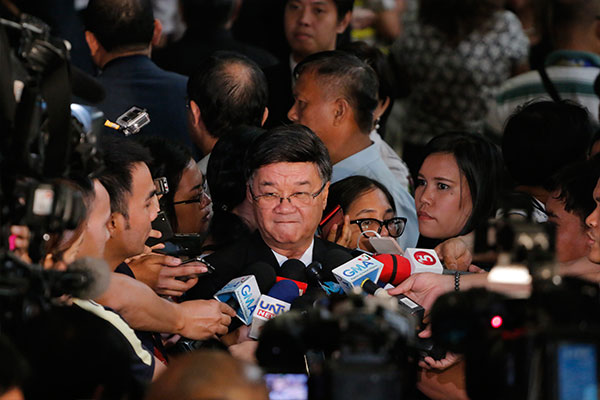 The spat between Justice Secretary Vitaliano Aguirre and Senator Risa Hontiveros has reached a court. PhilStar.com/File
Aguirre and Hontiveros come to court
(philstar.com) - October 2, 2017 - 3:41am
MANILA, Philippines – When Sen. Risa Hontiveros revealed a photo of a text message exchange between Justice Secretary Vitaliano Aguirre II and former Rep. Jing Paras, the justice chief's immediate statement was that his right to privacy was violated.
He lamented: "Text messages are private communications. Any unauthorized intrusion into such exchanges is illegal and betrays the Constitution," adding: "I condemn to the highest degree this shameless violation of a citizen's right to the privacy of communication."
In later interviews, Aguirre vowed that he will be filing anti-wire tapping complaints against Hontiveros, but even before the justice chief sought a court to assail Hontiveros' act, the Volunteers Against Crime and Corruption and Paras—the same person who
Aguirre was said to be making the order for a case build up—beat him by a week.
Paras is also a member of the VACC, an NGO that has filed cases against personalities deemed critical of the current administration.
The VACC is behind the drug case against now detained Sen. Leila De Lima. The group has also filed an impeachment rap against Chief Justice Maria Lourdes Sereno, who was in loggerheads with President Rodrigo Duterte last year.
It was only on October 2 when Aguirre, a little later than 8:00 a.m., went to the Pasay City Prosecutor's Office to file three counts of violation of Republic Act 4200 against Hontiveros.
He, however, has yet to confirm or deny making the order to Paras.
Wiretapping Law
The current anti-wiretapping law holds punishable secretly overhearing, intercepting or recording communication using a "dictaphone or dictagraph or detectaphone or walkie-talkie or tape recorder."
To date, a bill seeking to expand the 52-year old Republic Act remains pending before the Senate.
According to the Senate website, the Expanded Anti-Wire Tapping Act of 2016 – filed by former Sen. Grino Honasan, Sens. Panfilo Lacson, Grape po, Sonny Angara, and Tito Sotto III – is currently pending second reading, special order.
The Senate bill holds that it shall be unlawful to "secretly wiretap, intercept, overhear and listen to, screen, read, surveil, record or collect, with the use of any mode, form, kind or type of electronic, mechanical or other equipment or device or technology now known or may hereafter be known to science."
A full copy of Aguirre's wiretapping complaint is yet to be released to the members of the media. But Aguirre, in a statement read before the Senate immediately after he filed the raps, claimed that Hontiveros "intend to maliciously use" the photo against him.
Aguirre also sought the opinion of a photography expert to support his claim that the photo was not "captured inadvertently" but deliberately.
Hontiveros, during her privilege speech, only showed a photo that captured Aguirre holding his phone while exchanging the text message with Paras.
A separate ethics complaint was also filed by Aguirre against Hontiveros on the same day.
"No case against Hontiveros"
For former Ateneo de Manila School of Government Antonio La Viña, Hontiveros cannot be held accountable for privilege speech.
"The case has no factual or legal basis," La Viña said in a text message to PhilStar.com.
"Sen. Hontiveros cannot be held liable for any parliamentary speech and that includes any document, photo, etc that she uses in that speech. There is also no wiretapping here because the photo was not intended for that purpose."
In the photo shown by Hontiveros, a message from Paras to Aguirre reads: "Naturuan na ni Hontiveros yung testigo. Her questions are leading questions."
To which Aguirre replied: "Yon nga sinasabi ko kanina dito. Very obvious. Kaya expedite natin ang cases ninyo vs. her."
Aguirre and Hontiveros have been exchanging barbed comments since Hontiveros took into her office's protective custody the minor witnesses in the killing of Kian Delos Santos.
Hontiveros is a member of the Akbayan party-list, but she ran under the Liberal Party during the 2016 national elections.
Partiality
After filing the complaint, Aguirre in a message to reporters vowed that the Department of Justice will remain the fair in probing the case against Hontiveros.
Based on the DOJ Circular No. 70, on the 2000 National Prosecutor Service, an appeal against on resolutions of the Chief State Prosecutor, Regional State Prosecutors and Provincial/City Prosecutors "may be brought to the Secretary of Justice."
Part of Section 7 of the said circular reads: "The Secretary of Justice may dismiss the petition outright if he finds the same to be patently without merit or manifestly intended for delay, or when the issues raised therein are too unsubstantial to require consideration."
Among recent cases that reached the Office of the Secretary of Justice are: Drug case of Marine Lieutenant Ferdinand Marcelino, and the murder case of Albuerra City Mayor Rolando Espinosa, which was later reversed to a lighter case of homicide.
The DOJ was hit for "overturning" the resolutions, but Aguirre has always distanced himself from the resolutions. He stressed that he has full trust to his Undersecretaries who sign for the resolutions and not him.
'Leilanization'
Rep. Kaka Bag-ao, of the Dinagat Islands, in a statement likened the filing of raps against Hontiveros as with the case of De Lima.
"Itong isinampang kaso kay Senator Risa Hontiveros ni DOJ Secretary Vitaliano Aguirrre ay isa na naming halimbawa ng 'Leilanization' ng mga naghahayag laban sa kawalan ng katarungan sa mga gawain ng pamahalaan," Bag-ao said.
Bag-ao also noted that Aguirre, despite several interviews since Hontiveros' reveal, has yet to address the content of the exchange of messages.
"Deretso kaagad sila sa pag-alma na nabasa ang kanilang palitan. Sila na nga ang nahuli, sila pa ang galit," Bag-ao stressed.
The solon said that she wishes that the Aguirre would instead pay attention into the meting justice for the poor and victims of extra-judicial killings instead of "justice" for himself.