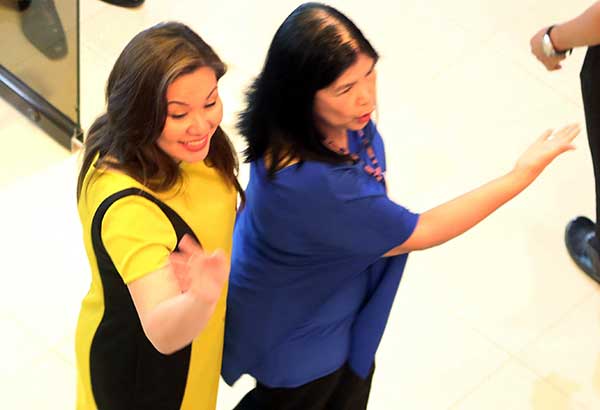 President Duterte's partner Honeylet Avanceña is escorted by an official of the Life Rispondé Foundation Corp. for the launch of a drug recovery program at Camp Crame yesterday. BOY SANTOS
Honeylet launches 'Life after Tokhang'
MANILA, Philippines — President Duterte's partner Cielito "Honeylet" Avanceña yesterday launched a recovery and wellness program for drug dependents as she defended the Chief Executive on his drug war.
Speaking at the launch of "Life after Tokhang" at Camp Crame, Avanceña denied accusations that the President had ordered the Philippine National Police (PNP) to kill drug addicts as part of the government's intensified campaign against illegal drugs.?
"If the President indeed ordered the killings of drug addicts, then why is there rehabilitation in many parts of the country, particularly in Davao City?" she said.
Duterte ran for president, she said, because he wanted to make a difference in the lives of Filipinos.
"Marami rin akong tanong (I also have many questions). If there is the desire to eliminate drug addicts, why set up drug rehabilitation (centers) in the country, like in Davao City? If all the desire in tokhang is to kill, why is there recovery wellness?" Avanceña asked.
Life after Tokhang is a program between the PNP, through the Directorate for Police Community Relation, and the Life Rispondé Foundation Corp., to promote the recovery of drug dependents nationwide.
Avanceña said she and President Duterte knew someone with a son who was addicted to drugs and who said they could not sleep at night for fear that their son might attack them.?
She asked why previous presidents did not address the drug menace.
"Why is it that past presidents, some older than me, did not address the drug problem in the country as much and as hard as the present president? Maybe because they know the enormity of the problem, how extreme, heavy… They know also that this is a multibillion(-peso)industry," she said.?
Avanceña also recalled her trip to New York where she said she had a chat with an official of the US Homeland Security, which is in charge of counterterrorism.?
"I was trying to help out in my little way to tell them what is happening in our country. I told the official a story when a soldier in Marawi City had to call his supervisor to ask whether to shoot a boy, about 10 to 15 years old, holding a rifle. My intention is to explain because the President is misunderstood," she said.?
"It was short of saying why don't you help us? I mentioned that terrorism is being funded with drug money. If a government soldier fired a bullet, a terrorist retaliated with five bullets. That's how hard it is on the ground," she added.?
Avanceña said the President could have ignored all his promises during the campaign but instead opted to fulfill them.?
"He could have waited until the war is over before going to Marawi City. I think babalik na naman siya (he will go back). Imagine how hard it is to see the devastation (in Marawi), but instead sinamahan niya yung mga sundalo (he accompanied soldiers)," she said.?