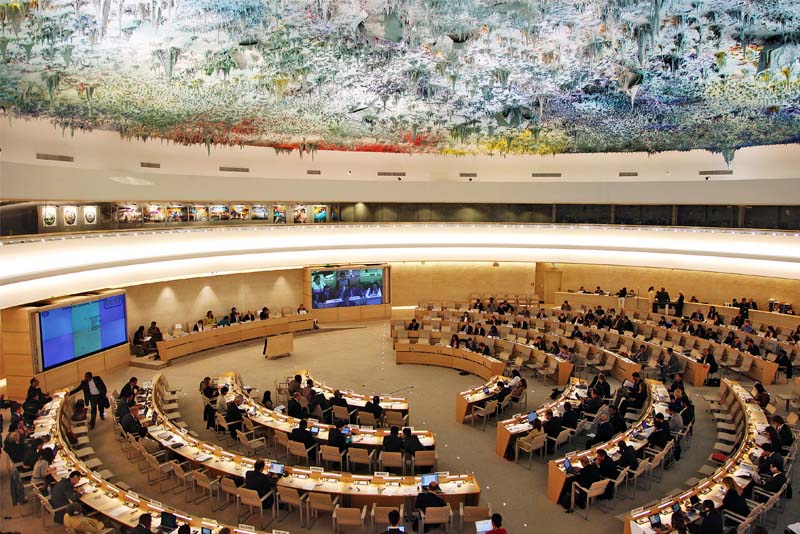 Malacañang has claimed that the United Nations Human Rights Council is being used to pursue partisan agenda after a group called for the ouster of the Philippines from the body because of drug-related killings. UN Brief Photo, File
Palace sees politics in call for Philippine's ouster from United Nations body
MANILA, Philippines — Malacañang has claimed that the United Nations Human Rights Council (UNHRC) is being used to pursue partisan agenda after a group called for the ouster of the Philippines from the body because of drug-related killings.
The Philippine Universal Periodic Review Watch, a group of human rights advocates, has asked the UN to revoke the Philippines' membership at the UNHRC because of the country's supposed "hardheaded position" against the conduct of a probe on killings.
The group also urged the 39 countries that raised concerns over the killings to stop providing financial or logistical support to Philippine security forces. The countries expressed concern over the alleged "culture of impunity" in the Duterte administration's anti-drug crackdown.
Presidential spokesman Ernesto Abella yesterday said the government respects the group's right to express its views but would continue to call out efforts to use the UNHRC for politics.
"Self-styled watchdogs of the Philippines' human rights performance need to balance their call with legitimate organizations like the United Nations Human Right Council, which recognizes the work the Philippines does, given and despite its challenges," Abella said.
"Having said that, the Philippines, as an active member of the UNHRC, respects this body's integrity and will call out attempts to use it seemingly to advance certain interests and political agenda," he added.
Last month, the Philippines rejected 154 of 257 recommendations by the UNHRC, including allowing a UN special rapporteur to probe the alleged extrajudicial killings, halting efforts to restore death penalty and lowering the age of criminal responsibility.
During the UN General Assembly last Sept. 23, Foreign Affairs Secretary Alan Cayetano warned against "misinformation" on the Philippines' campaign against illegal drugs and scored what he called the "politicization of human rights."
Abella has claimed that the Philippines' rejection of the UN recommendations is in line with its independent foreign policy.
"We will always be happy to accept the help of our foreign friends. But we will never accept dictation on how we are managing our own internal domestic processes," Abella said in a statement over the weekend.