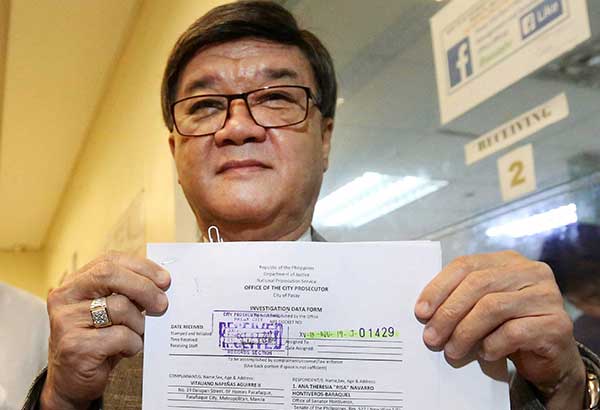 Justice Secretary Vitaliano Aguirre II shows a copy of his affidavit against Sen. Risa Hontiveros yesterday. EDD GUMBAN
Aguirre files wiretapping raps vs Hontiveros
MANILA, Philippines — Three counts of violations of the wiretapping law were filed against Sen. Risa Hontiveros before the Pasay city prosecutor's office yesterday, a move that stemmed from the lawmaker's alleged disclosure of text exchanges between Justice Secretary Vitaliano Aguirre II and a former congressman during a Senate hearing last month.
A separate petition to either "suspend or expel" the senator was filed before the Senate ethics committee.
In his complaint, Aguirre alleged that Hontiveros thrice violated Republic Act 4200 or the Anti-Wiretapping Act when she made public his text messages to and from former Negros Oriental representative Jacinto Paras last month.
The violations, he pointed out, include the act of taking shots of the text messages, submitting these to a photo expert for authentication and presenting these to the public.
These were done "intentionally, maliciously and unlawfully," he added.
To him, Hontiveros pried into his exchanges of private messages and made them public without first seeking authorization.
"It was never an inadvertent act, contrary to the claim of Sen. Risa Hontiveros in her privilege speech. I was targeted, I was singled out and it was premeditated," he said.
Hontiveros said the complaints were a desperate attempt to deflect public attention away from Aguirre's text conversation "which caught him red-handed plotting against me during a Senate hearing inside the Senate."
"This is the real issue here. Secretary Aguirre was caught conspiring and instigating private individuals to file cases against a sitting senator inside the Senate," the senator added.
She stressed that there was no intent to tap or intercept his messages even as she expressed fears that she may not have a fair investigation as prosecutors are under Aguirre, who she said must resign. – With Edu Punay, Paolo Romero