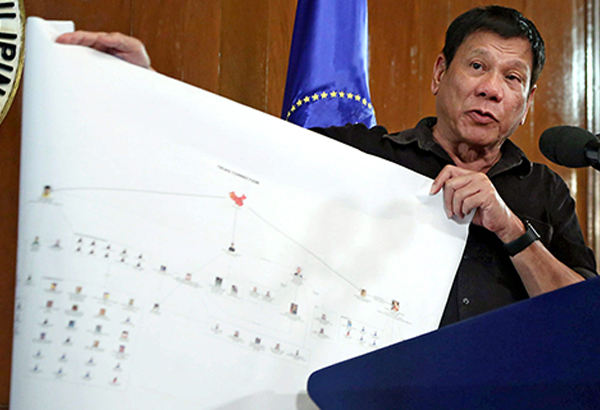 President Duterte holds a diagram showing the network of drug rings and personalities operating in the country while delivering a televised message at Malacañang on July 7, 2016. BOY SANTOS, file
SWS: 74% agree those on 'narco list' should be named, charged
(philstar.com) - October 2, 2017 - 11:50pm
MANILA, Philippines — Close to half of respondents in a Social Weather Stations survey agreed President Rodrigo Duterte should name the people on his supposed "narco list" and charge them in court, with another 28 percent saying they "somewhat agree".
According to a June 2017 survey that SWS released this month, 46 percent "strongly agree" with the statement that Duterte should make his list of "drug personalities" public and charge those on them in court.
The nationwide survey, conducted from June 23-26, 2017, involved 1,200 adults, with 300 respondents each in Metro Manila, Balance Luzon, Visayas and Mindanao, SWS said. The survey has sampling error margins of ±3 percent for national percentages, and ±6 percent each for Metro Manila, Balance Luzon, Visayas and Mindanao.
"The area estimates were weighted by Philippine Statistics Authority medium-population projections for 2017 to obtain the national estimates," SWS also said.
Of the respondents, 12 percent disagreed that the drug list should be made public and charges fled in court.
Metro Manila had the most respondents who agreed with the statement — 82 percent, with 51 percent saying they strongly agree — followed by Balance Luzon with 75 percent (44 percent strongly agree, 31 percent somewhat agree).
Mindanao was next with 71 percent (48 percent strongly agree, 23 percent somewhat agree) followed by the Visayas at 69 percent (46 percent strongly agree, 23 percent somewhat agree).
In August 2016, Duterte read out an initial version of his "narco list", which included judges, local politicians as well as police and military officers.
The claims led to denials from officials named, with many trooping to the Philippine National Police headquarters in Quezon City or to local police offices to clear their names.
Some of the people named also turned up to be already dead.
'Narco mayors'
Espinosa was killed during a search operation while he was in government custody.
Another mayor accused of drug ties, Jed Mabilog of Iloilo City, has gone on
extended sick leave
. He has denied the allegations.
Lawyer Mark Piad, the mayor's spokesman, admitted Mabilog decided to extend his sick leave also for security reasons.
"The threat is quite serious," Piad said.
Piad said aside from Duterte's statements against the mayor, some of Mabilog's friends have relayed information on threats to the mayor's life.
In meetings in Malacañang in January, the president reportedly threatened to kill mayors linked to drugs.