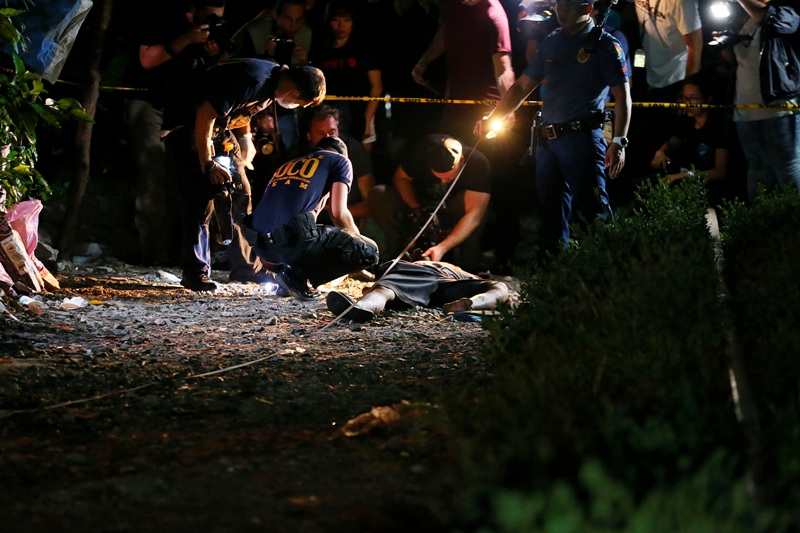 They said the Catholic Bishops' Conference of the Philippines (CBCP) should provide more details on the disclosures of the reportedly conscience-stricken policemen or the witnesses themselves to help end EJKs in the country linked to President Duterte's war on drugs. AP/Bullit Marquez, File
Senate to provide protection to EJK contrite cops
(The Philippine Star) - October 3, 2017 - 4:00pm
MANILA, Philippines — The Senate is willing to provide protection to police officers who reportedly confessed to members of the clergy about their involvement in drug-related extrajudicial killings (EJKs), senators said yesterday.
They said the Catholic Bishops' Conference of the Philippines (CBCP) should provide more details on the disclosures of the reportedly conscience-stricken policemen or the witnesses themselves to help end EJKs in the country linked to President Duterte's war on drugs.
Sen. Panfilo Lacson, chairman of committee on public order and safety, said he was willing to coordinate with the CBCP on the matter.
"If they have names, and there are policemen willing to testify, why not? After all, we're after the truth here," Lacson told reporters.
"We can always hold an executive session. And in confidence, they can bring them to us, and we will not shy away from our mandated task to conduct investigation," he said.
He said up to now there is no concrete evidence that the killings were state-sponsored despite what critics say, adding the Public Attorney's Office and the National Bureau of Investigation appear to be cooperative in investigations into such incidents.
He said it would be better if the police officers issue sworn statements to strengthen their stories.
"We can give them protective custody or legislative immunity so that whatever they say can't be used against them," Lacson said.
Sen. Grace Poe, vice chair of the panel, said there is a need to properly validate their claims, but she fully understands why the concerned police officers were afraid to come out.
"We encourage everyone to come out but we also have to have something in place to guarantee their safety. You can't blame them because they're afraid," Poe said.
She welcomed the "willingness" of policemen to speak out about their actual involvement in the drug war and lauded the Church for "opening its arms wide to provide sanctuary for them."
Poe endorsed the immediate passage of the proposed Whistle-blower's Protection Act to encourage more people to come out undeterred in the light of reports that cops involved in drug slays are seeking protection from the Church.
Sen. Paolo Benigno Aquino IV urged the Catholic Church to encourage their witnesses to share direct information about the involvement of policemen in EJKs.
"Let's cooperate and find a way to have these stories come out so that we can all work to give justice to the victims," Aquino said.
Justice Secretary Vitaliano Aguirre II yesterday hit the Catholic Church for hiding witnesses, which hampers the investigations of the recent deaths of three teenagers in Caloocan City.
Aguirre said that the administration and the Church are on the same side but the latter has been trying to obstruct investigations by withholding witnesses in the cases of Kian delos Santos, Carl Arnaiz and Reynaldo de Guzman.
"Why are you intervening? You are hiding the witness on the Kian, Carl and Kulot killings. Aren't we all in favor of eliminating police scalawags who kill teenagers who are helpless?" he said in English and Filipino.
The justice secretary said there was a sense of "entitlement" on the part of the Church and the opposition to meddle with the investigation of the cases.
"They should have come out earlier before the entry of lead agency NBI. But what did they do, they are interfering in the investigation of the crime," he added.
"Why are they hampering, until now there are three witnesses that they have not presented but all of us want to eliminate the police scalawags," he said.
Aguirre did not say who the witnesses were, but he could have been referring to the witnesses to the Delos Santos killing, now under protection of the Caloocan bishop.
PNP chief dares CBCP
Philippine National Police (PNP) chief Director General Ronald dela Rosa yesterday dared the CBCP to produce the police officers allegedly willing to reveal their participation in EJKs of drug suspects in the government's war on drugs.
Dela Rosa said the CBCP should present these policemen instead of resorting to a witch hunt.
"I don't know what's their basis but I hope they won't do a fishing expedition. If it's true, then present these people at the Senate. There is no problem," Dela Rosa told reporters.
"We are talking about testimonies. How can it be credible when the source is questionable," said Dela Rosa.
He cited the case of Police Officer 1 Vincent Tacorda from Catanduanes who earlier claimed he was ordered by his superiors to kill suspected drug personalities but later recanted his statements.
"As I have said, even if we are the ones hit, as long as it's true and not fabricated," said Dela Rosa.
While they will not stop police officers who want to seek the help of the CBCP, Dela Rosa warned they face sanctions if they go AWOL (absent without leave).
"They swore to serve and protect and follow rules and regulations," he said.
President Duterte's partner Cielito Avanceña said if Duterte really issues orders to kill people, why is Sen. Antonio Trillanes IV, his known detractor, still alive??Avanceña made the remarks in her speech on Monday during the launching of "Life after Tokhang" at the PNP headquarters in Camp Crame, Quezon City.?"Trillanes has been hitting us a week before (May 9 presidential) elections.So why is he still alive? Why hasn't anything happened?" said Avanceña.?Trillanes has made a series of exposés against the President and his family. He said some active police officers from the Philippine National Police Academy (PNPA) are part of the so-called "Philippine death squad" executing EJKs as instructed by Duterte.?Trillanes also claimed that Duterte had accounts at the Bank of the Philippine Islands (BPI) Julia Vargas Avenue branch containing over P211 million in deposits, which he did not declare in his 2014 statement of assets, liabilities and net worth (SALN).
The senator also accused Duterte's son Davao City Vice Mayor Paolo Duterte of involvement in the illegal drug trade.
Aside from Trillanes, Avanceña also mentioned former Speaker Prospero Nograles who had been at loggerheads with Duterte.?"Nograles himself has done not very good things to him in the past, but look how forgiving he is," she said. ?
Turned emotional, Avanceña defended the President.
"He will never instruct anybody, the Armed Forces, or the PNP for that matter, to kill for no reason at all. He won't do that, he is a lawyer."
?Avanceña took part in launching a recovery and wellness program for drug dependents.?
Life after Tokhang is a program between the PNP, through the Directorate for Police Community Relation, and the Life Rispondé Foundation Corp., to promote the recovery of drug dependents nationwide. – Paolo Romero Emmanuel Tupas, Cecille Suerte Felipe