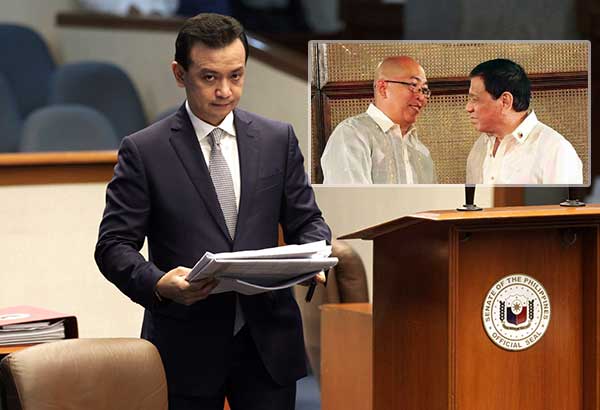 Sen. Antonio Trillanes IV carries documents after delivering a privilege speech at the Senate, where he revealed that a certain Daniel 'Snooky' Cruz (shown above in file photo at Malacañang) was President Duterte's source of information on his alleged bank accounts abroad. GEREMY PINTOLO
Trillanes: 'Snooky' sold fake info to Palace for P10 M
Paolo Romero
(The Philippine Star) - October 3, 2017 - 4:00pm
MANILA, Philippines — The documents that President Duterte used to accuse Sen. Antonio Trillanes IV of having secret bank accounts abroad were not only fake but also costly, sold to gullible Malacañang officials for P10 million, the senator said yesterday.
In a privilege speech, Trillanes identified a certain Daniel "Snooky" Cruz, who claimed to be a former US federal agent and a financial forensics expert, as the one who sold the documents on his alleged bank accounts abroad, including the one in DBS Bank in Singapore that Duterte cited.
"Somebody profited here," Trillanes said, noting that while P10 million was paid for the documents, Cruz only received P3 million.
Trillanes said his sources revealed Cruz peddled the same documents last year but made it appear the bank accounts were those of Sen. Leila de Lima, who is now detained on drug charges.
A Cabinet official, whom Trillanes did not identify, acquired the documents of De Lima's alleged bank accounts in DBS Singapore.
A check by the same official showed the documents to be spurious so no exposé was made against De Lima on the matter, he said.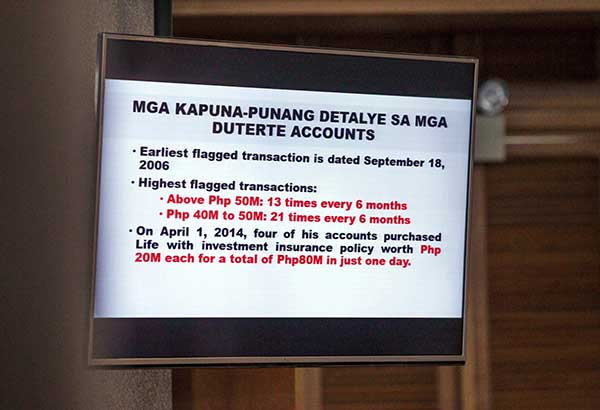 Sen. Antonio Trillanes IV shows allegedly questionable bank transactions of President Duterte during a privilege speech at the Senate yesterday. GEREMY PINTOLO
In a PowerPoint presentation, Trillanes compared the documents on his and De Lima's alleged offshore bank accounts, flashing them on the screen side by side. The two sets of documents were shown to be nearly identical except for a few numbers.
Trillanes also showed pictures of Cruz taken from his social media accounts that showed him with Duterte, Philippine National Police chief Director General Ronald dela Rosa and other PNP officers.
Trillanes also mocked Duterte on his vow before soldiers in Marawi City to have himself shot if anyone could show he has more than P40 million in assets.
He again showed alleged records of Duterte's bank account that he had exposed last year that had a total of P2.2 billion in transactions from September 2006 to December 2015.
Trillanes cited as an example, a purported transaction on April 1, 2014 that showed Duterte allegedly having purchased insurance for each of his children with a total value of P80 million.
There were also 13 transactions that were over P50 million each, he said.
Trillanes said anyone who would like to shoot Duterte should use a more powerful M-16 automatic rifle because of the many bullets he needs to expend.