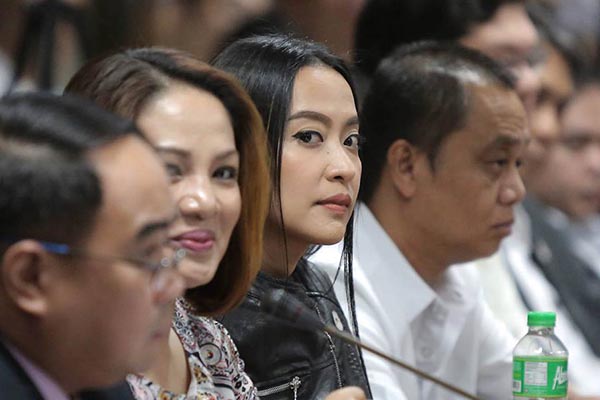 Blogger Mocha Uson, an assistant secretary of the Presidential Communications Office, appears at the Senate hearing on the proliferation of fake news on Wednesday, Oct. 4, 2017. Senate PRIB
Mocha Uson: I'm also a victim of fake news
(philstar.com) - October 4, 2017 - 4:23am
MANILA, Philippines — Presidential Communications Office Assistant Secretary Mocha Uson cries: "Biktima rin po ako ng fake news."
Uson lamented that even before she was appointed to a government position, ABS-CBN News Online spread that she was contracted as a consultant for the Bureau of Customs.
Uson was an invited resource person during the Senate's probe on proliferation of fake news on Wednesday, where she was given a chance to address the floor.
"Ako po ay na-bash online," Uson stressed. She added that an anonymous blog Madam Claudia blog spread "fake news" that she received a check from defeated vice presidential candidate Bongbong Marcos.
Pointedly looking at the members of the media, she added: "Kadalasan po, ilang mainstream media katulad po ng GMA News na ako daw po ay nagselfie sa loob ng grand mosque sa Marawi."
Jaemark Tordesillas, editor-in-chief of GMA News Online, for his part said that they were only reporting on the post of Lanao del Sur assemblyman Zia Alonto Adiong taking offense at Uson's post.
Uson said that GMA News should have gotten her side.
Flak for gaffes
The presidential communications official, who was an influential Facebook blogger and supporter of President Rodrigo Duterte prior to her appointment, has received flak for posting wrong information on her blog.
For one, she used a photo of Honduras police when asking the public to pray for the Philippine Army during the Marawi Siege.
Uson defended her post, saying that it was "symbolism."
During the height of public outrage during the death of 17-year-old Kian Delos Santos, Uson posted a story about a killed cop in an operation. She dared opposition lawmakers, including Vice President Leni Robredo to visit the cop's wake.
The wake however happened in 2016.
Uson also propagated the alleged offshore bank accounts of Senator Antonio Trillanes IV, among the most vocal critics of President Rodrigo Duterte.
Trillanes went to Singapore to disprove the claims of Uson. President Rodrigo Duterte later claimed that the he just invented the bank account numbers spread by Uson and his other known supporters.
Uson is now facing three counts of cyberlibel filed by Trillanes before the Office of the Ombudsman.