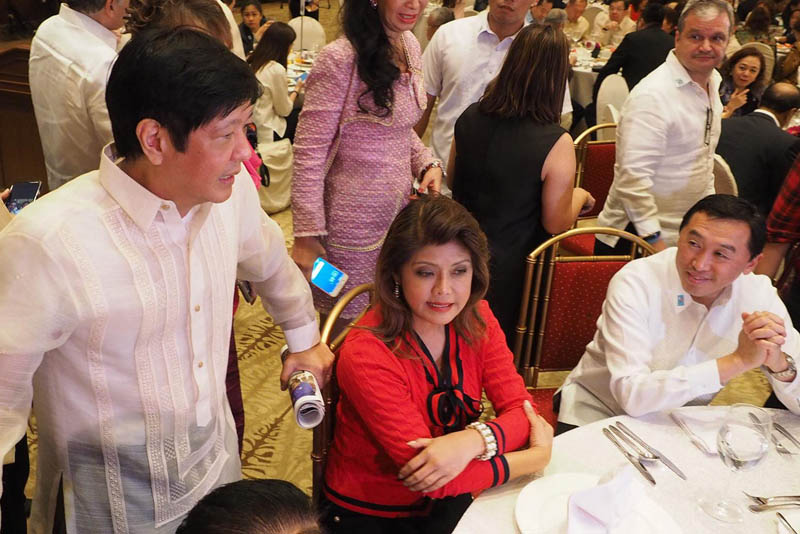 In this Sept. 26 photo, former senator Bongbong Marcos Jr. converses with sister, Ilocos Gov. Imee, and Rep. Arthur Yap (Bohol) at the anniversary of the Philippine Constitution Association. On Thursday, Marcos alleged that their family has been a victim of "fake news" for 30 years. BBM staff/Released
Bongbong Marcos: We're also victims of fake news
(philstar.com) - October 5, 2017 - 5:48am
MANILA, Philippines (Updated 1:58 p.m.) — Ferdinand "Bongbong" Marcos Jr., son of the late strongman, claims that he and his family have been victims of "fake news" despite history books and court jurisprudence belying the family's woven myths.
"We have suffered from the lies of those fake news for thirty years," Bongbong said in Filipino at a forum in Quezon City on Thursday. He ran in the 2016 elections as vice president, but lost the bid to Leni Robredo.
"There are lots of (historical) revisions occurring; we want to fix that. It's not a version; it's the truth," Bongbong claimed, adding: "Others want to put a spin (on stories), make them into 'fake news."
The family has always maintained that the 21-year rule of the family's patriarch, Ferdinand Marcos Sr., has been the country's "golden era."
READ: 31 Years of Amnesia
The Marcoses even went as far as getting a commissioned biography to weave a narrative that will support the Marcoses' hold to power. The family also used films, arts and even architecture to perpetuate a memory of the Marcos rule, spread through a controlled mass media during the martial law years.
Economists also denied the "golden era" myth that the Marcos family has been propagating, as high poverty incidence, inflation, overspending, and foreign debt characterized the dictatorship.
READ: Debt, deprivation and spoils of dictatorship
Several courts in four countries also held that part of the Marcoses' wealth are ill-gotten. Philippine courts have also ruled on the human rights abuses done under the Marcos rule.
To this day, a portion of the Philippines's annual budget is being allocated to the foreign debt Marcos incurred during this dictatorship.