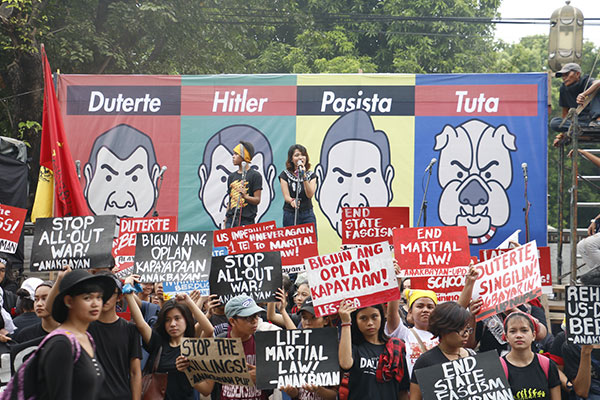 President Rodrigo Duterte on Wednesday accused the Liberal Party of conspiring with the Communist Party of the Philippines to oust him from office. Supporting the conspiracy claim, Solicitor General Jose Calida said it is not only the "yellows" but also personalities from different colors who are plotting to remove Duterte from power. Philstar.com/EC Toledo
Duterte's ouster claim 'fake, floated to deflect issues'
(philstar.com) - October 5, 2017 - 8:04am
MANILA, Philippines — Personalities critical of the current administration denied the latest destabilization claim by President Rodrigo Duterte, saying it is a product of the chief executive's creative imagination.
In a statement, Liberal Party President Sen. Francis Pangilinan called the ouster plot allegation "fake," adding it was floated to divert criticisms.
"Naghahanap sila ng pantapal para malihis ang atensyon ng media at ng mamamayan sa alingasngas ng corruption, drug smuggling ng Davao group at ang palpak na drug war na araw-araw ang patayan (They're looking for a cover-up to divert the attention of the media and the public from the issues of corruption, drug smuggling by the Davao group and failed drug war that kills people every day)," Pangilinan said.
Cause-oriented group Tindig Pilipinas also said the president has "resorted again to his usual propaganda to deflect issues."
"There is no conspiracy. If at all, it exists as a product of his creative imagination," the group said in a statement.
Tindig Pilipinas said the criticisms hurled against his unexplained wealth, his refusal to sign bank waivers and the killings under his bloody war on drugs are not acts of destabilization.
"It is his refusal to follow the rule of law, the abuse of power through fear and intimidation, that are the causes of the destabilization of our country," the group said.
Bayan Secretary General Renato Reyes also denied the existence of a conspiracy among opposition groups.
"There's no Left-Yellow conspiracy as Duterte seems to be implying. Movement has been transparent. #LunetaRally was no conspiracy," Reyes said on Twitter.
Reyes added that the state-sponsored disinformation is more alarming than the "Yellow-Red conspiracy" of the president.
Attack on dissenters
Duterte on Wednesday accused LP of conspiring with the Communist Party of the Philippines to oust him from office.
"But what is really very clear is 'yung Left, pati ang kaalyado ng Left… 'yung mga dilaw. Gusto nila ako paalisin dito sa Malacañang (even the Left, the ally of the Left is the yellows. They want me out of Malacañang)," the president said, referring to LP's color.
READ: 'Yellow conspiracy' out to oust me
Supporting the conspiracy claim, Solicitor General Jose Calida said it is not just the "yellows" but also personalities from different colors who are plotting to remove Duterte from power.
"Before it was the yellow, now they changed the color to white. Now there are also the reds coming in. Members of the clergy are joining the fray," he said in a media conference.
"I warn them that they will not succeed. Why? Because they are doing subversive activities; we can send them to jail," he added.
READ: Aguirre, Acosta back new group against state 'enemies'
Calida, however, refused to identify these people and asked to be given a few more weeks for him to be able to name names.
Instead of persecuting dissenters, the government should allow people to air their criticisms without fear of retribution, Sen. Bam Aquino said.
On Tuesday, newly created Citizen National Guard branded seditious political opposition (Yellowtards) as one of the perceived "enemies" of the state.
READ: Group alarmed by creation of 'citizens guard' against enemies of state