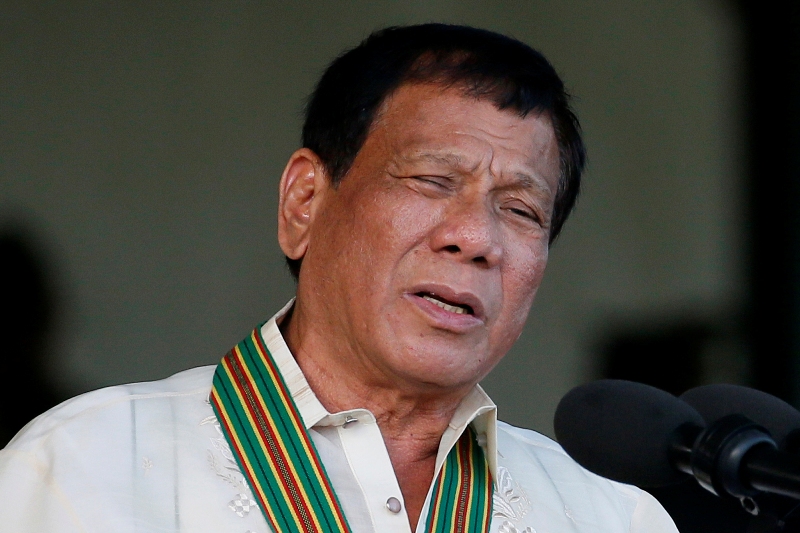 In this Tuesday, April 4, 2017 file photo, President Rodrigo Duterte gestures while addressing Army troopers during the 120th anniversary celebration of the Philippine Army at Fort Bonifacio in suburban Taguig city, east of Manila, Philippines. Results of an independent poll released Wednesday, April 5 showed a drop in the number of Filipinos who trust President Rodrigo Duterte, although he was still considered trustworthy by three-quarters of the respondents despite an impeachment complaint pending against him. AP Photo/Bullit Marquez, File
Duterte says resumption of talks with Reds 'not good for the country'
(philstar.com) - October 5, 2017 - 11:09am
MANILA, Philippines — The peace talks with communist rebels may not resume within the term of President Rodrigo Duterte, who believes that holding negotiations with the leftists is "not good for the country."
"You can just imagine, we are fighting the New People's Army. At this stage, I am not ready to talk to them because it is not good for the country," Duterte told soldiers in his speech during the Philippine Army's change of command and retirement ceremony.
"Kung para lang sa bayan, ok yan, but the way that it is—no. Ayaw ko and maybe it would take some time to maybe another president to do it," he added.
Duterte noted that the rebels have been waging an armed struggle against the government for 50 years. He said he was a student of Communist Party of the Philippines founder Jose Ma. Sison when the communist insurgency started.
"I listened to Sison. But you know, when you are young… it's full of ideal, a set of what you want the world to be. But when you get older, you'll know this is not really possible, that life is really unfair. It ain't really fair," the president said.
"That's really the set-up. I don't know but maybe when I go there, I will ask God why it is like that," he added.
Duterte—who won on a platform of peace and order—activated the peace talks with Reds and Bangsamoro insurgents that, if successful, could unlock the stunted economic potentials of conflict-affected areas in Mindanao and elsewhere.
The president scrapped the peace talks last July after the communist leadership ordered leftist fighters to launch offensives against government troops to resist the chief executive's imposition of martial law in Mindanao.
"If you (communists) want to resume the talks, I am not averse to the idea, but let me sort out first the other branches of government," the president said last September 16.
"Let's talk about it seriously. Do not be in a hurry because we have been fighting for the last 50 years," he added.
But the resident changed his tone last week, saying holding negotiations with the communists would yield nothing but expenses, adding that the rebels' supposed "impatience" was a turnoff.
Days after Duterte made the remark, communist rebels launched successive offensives in Sarangani, South Cotabato, Surigao del Sur, and Masbate.
Malacañang has said the attacks cast doubts on the rebels' sincerity to the peace process.
Duterte stressed that as long as the communist rebels do not stop guerrilla attacks, the peace negotiations will remain suspended.
With the peace talks in virtual limbo, the Armed Forces of the Philippines is just awaiting orders to re-arrest and haul back to jail the freed communist consultants to the peace process.
"I must leave a strong army that would really be capable of a simultaneous attack. Archipelago tayo eh," Duterte said in the same speech on Thursday.