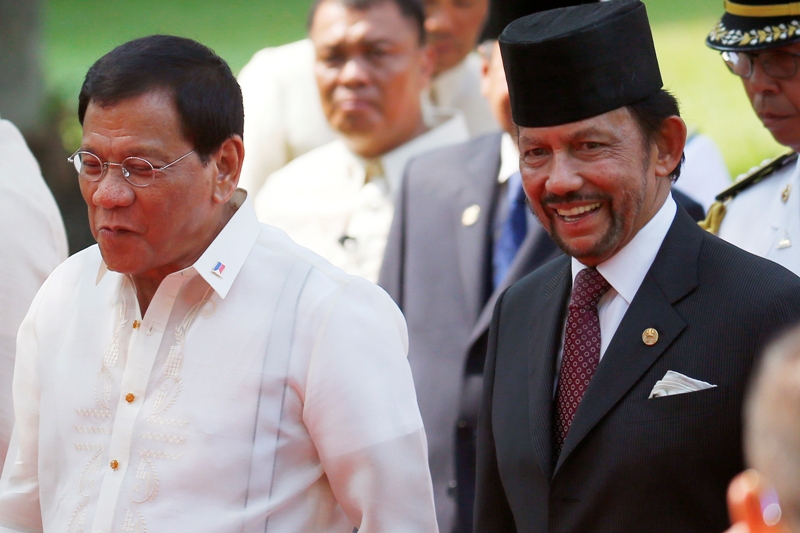 President Rodrigo Duterte yesterday left for an overnight visit to Brunei to attend the 50th anniversary of accession to the throne of Sultan Hassanal Bolkiah. AP/Bullit Marquez, File
Rody in Brunei for Bolkiah party
MANILA, Philippines — President Duterte yesterday left for an overnight visit to Brunei to attend the 50th anniversary of accession to the throne of Sultan Hassanal Bolkiah.
Duterte left Villamor Air Base on the presidential jet of the Philippine Air Force at around 6:30 p.m. and arrived at the Bandar Seri Begawan International Airport at past 8 p.m.
It was the first time that Duterte took a government plane in a state visit abroad.
The President took commercial flights of Philippine Airlines in previous foreign trips.
Executive Secretary Salvador Medialdea has been named officer-in-charge of the government while Duterte is out of the country.
The President was expected to have an audience with Bolkiah at around 8:30 p.m. before attending a royal banquet.
Malacañang has not released information about the topics to be discussed by the two leaders.
Duterte will depart for the Philippines at 11:45 p.m. and is expected to arrive in Davao City at around 1 a.m. today.
The government has not released a list of officials who accompanied Duterte. But presidential spokesman Ernesto Abella confirmed that he would join the trip.
The President was also accompanied by his partner, Honeylet Avanceña.
On Tuesday, Duterte told The STAR that he had accepted Bolkiah's invitation because the sultan is his "good friend" and a "dear friend of the Philippines."
The 71-year-old Bolkiah is one of the world's longest reigning absolute monarchs and one of the richest individuals in the world.
In 2008, the sultan posted a net worth of $20 billion, a wealth based on Brunei's oil and gas reserves, according to Forbes magazine.
Duterte first visited Brunei in October last year.
Brunei was supposed to be the first country to be visited by Duterte as President but he was forced to cancel his trip in September 2016 because of the Davao blast. – With Edith Regalado