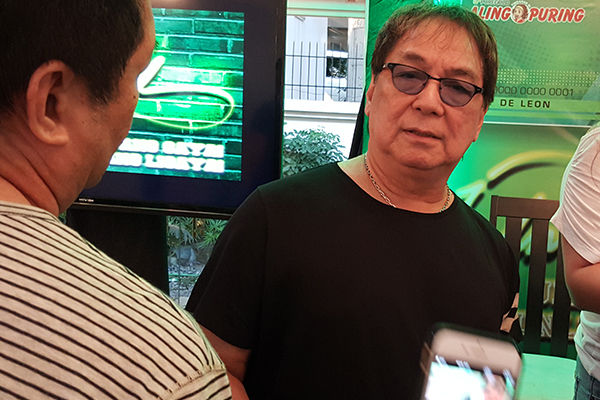 According to World Health Organization, depression affects more than 300 million people worldwide. In the Philippines, there were 2,558 reported cases of suicide in 2012, 550 of which were females while 2,009 were males. Philstar.com/Chuck Smith, file photo
Joey de Leon told: Nothing comical about suffering, suicide rates
(philstar.com) - October 6, 2017 - 3:37am
MANILA, Philippines — A group of mental health advocates have taken TV host Joey de Leon to task for "grossly misinformed" comments on depression that presented "potentially dangerous ideas to the general public."
In a statement, Youth for Mental Health Coalition said: "There is nothing hilarious about suffering. Nothing comical about suicide rates. There is nothing funny about being left in the dark."
The group added: "The sad truth is that these same ideas may be shared not uncommonly by people around us - extending the struggle to providing a new perspective to people who view depression through uninformed lenses."
De Leon on Thursday drew flak for his "ignorant" and "insensitive" comments on depression.
READ: Joey de Leon slammed for depression remark; Maine praised for taking a stand
During the "Juan for All, Al for Juan segment" of noontime show Eat Bulaga, a contestant named Maria Cristina said her mother is suffering from depression.
"The doctor simply said she has depression and because of her age, she tends to be forgetful," the contestant said in Filipino.
This prompted de Leon to reply: "'Yung depression gawa-gawa lang ng mga tao 'yan. Gawa nila sa sarili nila (Depression is just made up by people. They do it to themselves)."
De Leon's co-host Maine Mendoza, on the other hand, said depression should be taken seriously.
"Depression is not a joke. So if somebody is undergoing depression let's give them support," Mendoza said.
But de Leon said that those who are depressed are just putting on airs. He said that a rich person can be depressed but a poor person who is depressed is just someone who lost hope.
"Ganun 'yun e (That's the way it is)."
The veteran host comedian also said that people should not support depressed persons.
Y4MH invited de Leon to an educational discussion to shed light on mental health issues.
Y4MH said it will welcome a a public acknowledgement of de Leon's mistake but said a changed mindset on mental illness would be the best form of apology.
State of mental health in the country
Depression, as described by th World Health Organization, is a common mental disorder, characterized by persistent sadness and a loss of interest in activities that a person normally enjoys, accompanied by an inability to carry out daily activities, for at least two weeks.
In addition, people with depression normally have several of the following: a loss of energy; a change in appetite; sleeping more or less; anxiety; reduced concentration; indecisiveness; restlessness; feelings of worthlessness, guilt, or hopelessness; and thoughts of self-harm or suicide.
According to WHO, depression affects more than 300 million people worldwide. In the Philippines, there were 2,558 reported cases of suicide in 2012. Of that number, 550 were females while 2,009 were males.
The Department of Health estimates that one in five Filipino adults has some form of mental illness, with schizophrenia, depression and anxiety topping the incidences of disorder.
READ: Depression, some SAD facts
Mental Health Act
In May, the Senate approved on third and final reading a bill Senate Bill No. 1345 or the Philippine Mental Health Bill
READ: Senate approves Mental Health Act
The Senate bill seeks to integrate mental health services and programs in the public health system. It also mandates the government to provide basic mental health services at the community level and psychiatric, psychosocial and neurologic services in all regional, provincial and tertiary hospitals.
Sen. Risa Hontiveros, bill sponsor, considered the passage of the mental health bill historic as the Philippines isone of a few countries in the world that still does not have a national mental health policy.
Counterpart bills are still pending at the House of Representatives.
Y4MH urged Filipinos to heighten the public's awareness on mental health and participate in engaging and clarifying mental health concepts in communities.
People with mental health issues and suicidal thoughts who need anonymous support may reach out through HOPELINE, launched nationwide in 2016 by the DOH, WHO, and Natasha Goulbourn Foundation.
HOPELINE may be reached at (02) 804-4637; 0917-5584673; and 2919 for Globe and TM subscribers.