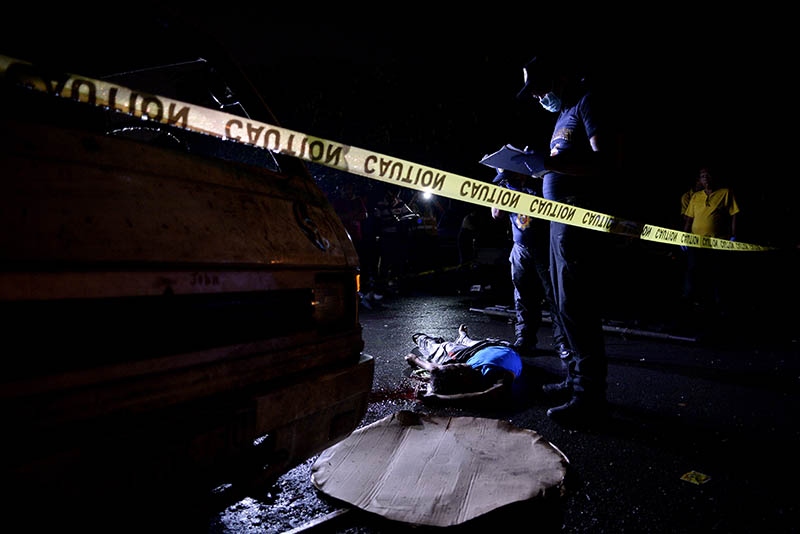 The Philippine National Police (PNP) yesterday maintained that there is no case of extrajudicial killing or EJK under the Duterte administration. AFP/Noel Celis, File
No EJK under Duterte — PNP
MANILA, Philippines — The Philippine National Police (PNP) yesterday maintained that there is no case of extrajudicial killing or EJK under the Duterte administration.
PNP spokesman Chief Supt. Dionardo Carlos downplayed the result of the latest Social Weather Stations (SWS) survey showing 73 percent of Filipinos are afraid of becoming victims of EJKs.
Carlos initially said there was one case of EJK under President Duterte but changed his statement, saying the case was not even confirmed.
"The PNP protects every individual's right to life. To allay or remove their fear of becoming victims of EJK, let it be known that under the present administration, there is only one case of extrajudicial killing or EJK for the period July 1, 2016 to Sept. 20, 2017," Carlos said in a text message to reporters yesterday morning.
"The possibility of them becoming victim of EJK is very remote, if we base it on facts and not on impression or perception," he added.
When asked by reporters what is the lone EJK case recorded under the Duterte administration, Carlos mentioned slain journalist Larry Que.
But Carlos revised his statement in the afternoon. He said Que's murder is not a confirmed EJK case.
"I asked for confirmation from Task Force Usig and they told me Que's case has not been confirmed," Carlos said in a phone interview.
Task Force Usig is the police unit investigating killings of journalists and members of militant groups.
Carlos said a murder is only considered an EJK case once Task Force Usig takes over the investigation.
"Que's case is included in the list of possible EJKs but it has not been confirmed," he explained.
Que was killed last Dec. 19 in Catanduanes. His partner filed murder complaints against Catanduanes Gov. Joseph Cua, a policeman and several others suspected to be involved in the murder.