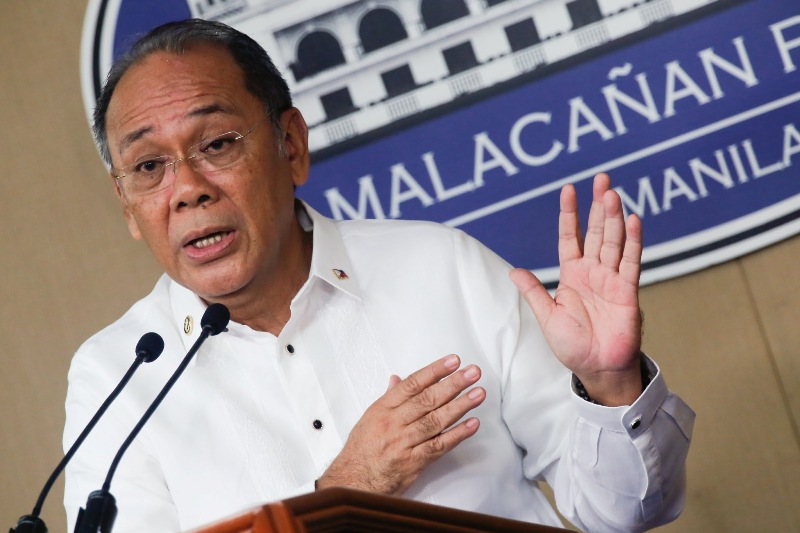 Presidential spokesperson Ernesto Abella explains the economics behind decreasing the demand for illegal drugs during a press briefing in Malacañan on Aug. 26, 2016. PPD/Toto Lozano
Palace: Maasim mayor's surrender underscores 'deeply entrenched' narcopolitics in the Philippines
(philstar.com) - October 6, 2017 - 4:00pm
MANILA, Philippines — The submission to authorities of Maasim Mayor Aniceto Lopez Jr., who is facing drug charges, highlights the severity of narco-politics in the country, Malacañang said on Saturday.
"The raid by PDEA operatives of the rest house of the Maasim mayor, where P5 million worth of suspected shabu and a mini-shabu laboratory were seized, proves the Administration's claim that illegal drugs and corruption have captured local politics," Presidential Spokesperson Ernesto Abella said in a statement.
"Progress against illegal drugs largely depends on the full support and cooperation of everyone from the citizens to the church and communities," he added.
Eluding arrest by anti-drug operatives who seized some P5 million worth of shabu in his house during a pre-dawn raid, Lopez, 55, turned himself in to authorities through Sen. Manny Pacquiao Friday.
READ: Sarangani mayor yields after shabu raid
But the Sarangani mayor, who is now under custody of the Philippine Drug Enforcement Agency, denied the drug charges and claimed that what the raiders found in his house were only cooking equipment used by his children.
PDEA director general Aaron Aquino said Lopez surrendered to his party-mate Pacquiao at the senator's residence in General Santos City at around 12:30 p.m. Friday or several hours after the raid.
While Lopez is not in President Rodrigo Duterte's narco-list, he is on PDEA's watchlist, Aquino clarified.
Aside from drugs, the raiders also reported seizing firearms and shabu lab equipment in his house.
Duterte earlier urged mayors involved in the illegal drug trade to resign or else he would confront them and kill them.
He even said that his son Davao City Vice Mayor Paolo Duterte would not be spared from the killings if he gets involved in illegal drugs.
This was after the presidential son and his brother-in-law Manases Carpio have been implicated in the entry of P6.4 billion shabu or methamphetamine shipment from China.
READ: Paolo Duterte, Mans Carpio grilled, deny wrongdoing
Duterte, who easily won the race to Malacañang last year on a brutal law-and-order platform, has stoked international alarm for activating his fierce anti-drug campaign that has taken the lives of thousands of suspected drug personalities.