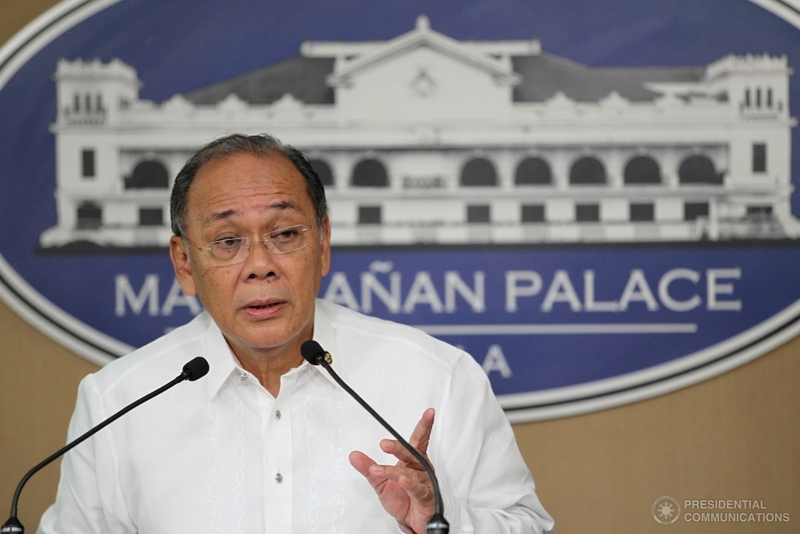 Presidential Spokesperson Ernesto Abella holds a press briefing in Malacañang. PCOO/King Rodriguez
Palace backs PNP's 'no EJKs' claim
(philstar.com) - October 7, 2017 - 5:33am
MANILA, Philippines — Malacañang on Saturday sought to defend the Philippine National Police's claim that there had been no case of extrajudicial killings under President Rodrigo Duterte's deadly drug war.
A "corrected" PNP statement issued Friday afternoon omitted mention of the single case it earlier recognized as an extrajudicial killing — the death of Catanduanes-based journalist Larry Que.
Chief Superintendent Dionardo Carlos, PNP spokesman, said that the earlier figure had been corrected by Task Force Usig, the police unit that handles "extralegal killings" of activists, media workers and foreign nationals.
In a statement, Presidential Spokesperson Ernesto Abella echoed the PNP's explanation and said that authorities are following the operational guidelines provided by Administrative Order 35 regarding the definition of "extrajudicial killings."
"AO 35 has not been repealed or revoked; thus, the definition of EJK remains the same," Abella said.
"Having said that, we wish to emphasize that one death is one too many. Regardless of this definition, these deaths are being addressed to ensure the accountability of perpetrators, even as it calls upon witnesses and individuals who can provide valuable evidence that will lead to speedy resolution of cases," he added.
READ: SWS: Vast majority of Filipinos think drug suspects should be captured alive
The PNP previously said the killing of Catanduanes-based journalist Larry Que was considered an extrajudicial killing.
Catanduanes Gov. Joseph Cua and police officer Vincent Tacorda had been implicated in Que's case.
Tacorda is the whistleblower who claimed he was ordered by his superiors to kill drug personalities.
He, however, recanted his statement after "serious soul searching."
The police said 3,850 have "died in police operations," suggesting these are drug suspects who engaged arresting officers in shootouts; while the another 2,290 "deaths under investigation," have already been determined to be "drug-related."
READ: PNP: 6,225 drug-related deaths since July 2016
Administrative Order 35
AO 35, signed in 2012, directs the creation of the Inter-Agency Committee (IAC) on extralegal killings, enforced disappearances, torture and other grave violations of the right to life, liberty and security of persons.
The IAC—headed by the Department of Justice—monitors cases of EJKs, enforced disappearances, torture and other human rights violations.
The order defines EJKs as "killings wherein the victim was a member of, or affiliated with an organization, to include political, environmental, agrarian, labor, or similar causes; or an advocate of above-named causes; or a media practitioner or person(s) apparently mistaken or identified to be so."
The order adds that a perpetrator can either be a state agent or non-state agent who targeted a victim due to actual or perceived membership, advocacy or profession, and that the circumstances of the attack must reveal a deliberate intent to kill.
During the Universal Periodic Review of the Philippines at the UN Human Rights Council in May, Alan Peter Cayetano—then a senator—cited AO 35 in questioning critics of Duterte for using a different definition of EJKs compared to the past administration.
Cayetano said killings outside the categories in AO 35 are considered either as homicide or murder.
"Administrative Order 35 signed by then President Benigno Aquino III defined EJKs as the killing of the members or advocates of cause-oriented organizations like labor, environment or media activists resulting in very low number of supposed EJKs in the past administration," Cayetano said.
"However, for the current administration, a different definition is being used. EJK now refers to any death outside of those caused by natural causes, accidents or those ordered by the courts," he added.
But Philippine Alliance of Human Rights Advocates said in May that the strict terminology in AO 35 specifically applies to the cases handled by the IAC, which was tasked to probe clear-cut EJK cases rampant that time.
READ: Cayetano uses restrictive EJK definition, experts say
PAHRA Secretary General Rose Trajano said that the government cannot quote AO 35 because "the general definition of EJKs, even at the international level, is any death sanctioned or with the acquiescence of the government outside the due process or the rule of law."
"What was mentioned in the definition of AO 35 just represents a prioritization of extrajudicial killings that were happening at that time and right now we know that the situation has changed," Human Rights Commissioner Karen Gomez Dumpit said in an interview at the time.
"Based on the press statement by Professor Philip Alston, UN special rapporteur on extrajudicial executions, during his mission to the DR Congo in 2009, the international law definition of extrajudicial execution 'encompasses any killing by government forces as well as killings by any other groups or individuals which the government fails to investigate, prosecute and punish when it is in a position to do so,'" CHR spokesperson Jacqueline De Guia also said.