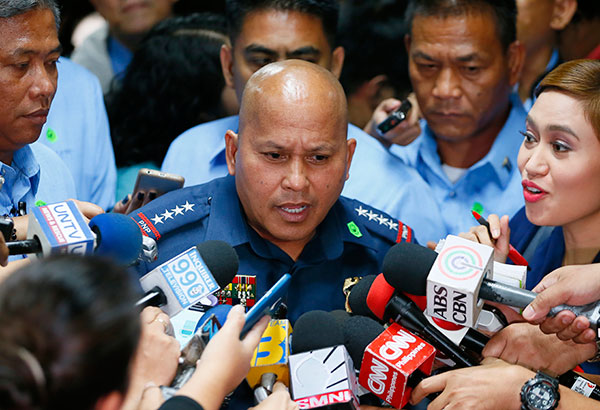 PNP chief Ronald dela Rosa announced that Oplan Tokhang and Double Barrel Reloaded have been terminated following the order of President Rodrigo Duterte to designate the Philippine Drug Enforcement Agency as the sole agency in charge of the drug war. AP/Bullit Marquez, file
Bato: PNP now hands off on drug war
(philstar.com) - October 12, 2017 - 6:30am
Intelligence work, monitoring to continue
MANILA, Philippines — Director General Ronald "Bato" dela Rosa, Philippine National Police chief, on Thursday announced that he has ordered the police to stop all programs related to the anti-illegal drugs campaign.
The order comes a day after President Rodrigo Duterte designated the Philippine Drug Enforcement Agency (PDEA) as the sole agency in charge of the so-called war on drugs.
"We are turning over the taks to PDEA... We'll just look for other things to work on, just not drugs for now," Dela Rosa said in Filipino during a press briefing.
Oplan Tokhang and Oplan Double Barrel Reloaded are among the programs that have been stopped following Dela Rosa's order, according to a report from radio dzMM.
The PNP's Drug Enforcement Group will now be limited to intelligence production and monitoring.
The police will now focus on other crimes and on internal "cleansing", Dela Rosa said. Internal cleansing refers to operations to apprehend corrupt police officers in the PNP's ranks.
The PNP chief, however, admitted that he feels regret over the "gains" that the police has achieved in the drug war for the past year.
PNP spokesman: Memorandum unclear on status of Tokhang, Double Barrel
Earlier in the day, there appeared to have been a miscommunication between Dela Rosa and PNP spokesperson Dionardo Carlos.
In a separate press conference, Carlos said that Duterte's memorandum did not explicitly direct the termination of the PNP's involvement in the drug war.
"There is nothing in the implementing order. In effect, there was nothing in the directive," Carlos said in Filipino when asked if Oplan Tokhang was going to be terminated.
On Wednesday, three victims of the drug war filed petitions before the Supreme Court, asking for a halt to the war on drugs.
The petitioners, through legal counsel Free Legal Assistance Group, sought to put an end to extrajudicial killings caused by the crackdown against illegal drugs. — Patricia Lourdes Viray