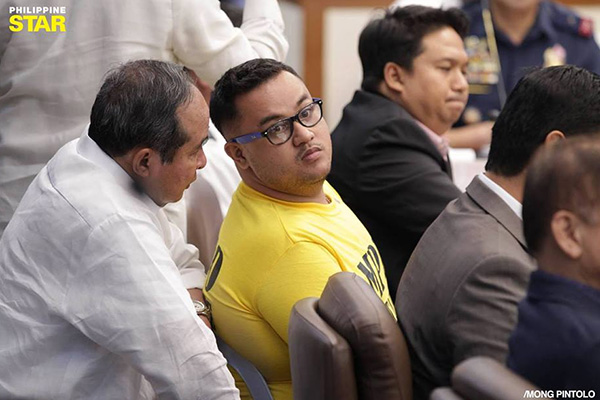 The Senate has approved a resolution authorizing the disclosure of the testimony given to the senators in an executive session by John Paul Solano, one of the principal suspects in the death of hazing victim Horacio "Atio" Castillo III. Mong Pintolo/File
Senate OKs disclosure of hazing suspect's testimony
Marvin Sy
(The Philippine Star) - October 12, 2017 - 4:00pm
MANILA, Philippines — The Senate has approved a resolution authorizing the disclosure of the testimony given to the senators in an executive session by John Paul Solano, one of the principal suspects in the death of hazing victim Horacio "Atio" Castillo III.
Senate Resolution 529, signed by 21 senators, was presented in plenary last Wednesday night and was adopted immediately.
The resolution was prompted by the failure of Solano to execute a sworn statement and make public all personal knowledge he has on the death of Castillo despite two preliminary investigations conducted by the prosecutors of the Department of Justice since the Senate conducted its first hearing on the incident last Sept. 25.
During that hearing, Solano refused to provide details regarding the hazing of Castillo and only agreed to tell all in an executive session.
The executive session was attended by Sens. Panfilo Lacson – chairman of the committee on public order and dangerous drugs – Paolo Benigno Aquino IV, Juan Miguel Zubiri and Sherwin Gatchalian.
Lacson clarified the committee will not necessarily be releasing the transcript of the executive session to the public.
"But the members may confront Solano with his testimony during the Sept. 25 executive session and if he contradicts the same, he can be cited for contempt for lying nor can he be evasive in his response to questions," Lacson said.
The second hearing on the killing of Castillo will be held on Monday.
In the resolution, it was noted that Solano "divulged vital information that will help the authorities solve the case, prosecute the culprits and give justice to the death" of Castillo.
While matters taken up in executive session are strictly confidential, the rules of the Senate provide for disclosure until "the Senate, by two-thirds vote of all its members, decides to lift the ban of secrecy."
The rules of the Senate on the conduct of inquiries also allow the disclosure of matters taken up in executive session if this is authorized by the committee concerned.
In this case, apart from the committee of Lacson, the committee on justice headed by Sen. Richard Gordon is also involved as the secondary committee conducting the inquiry.