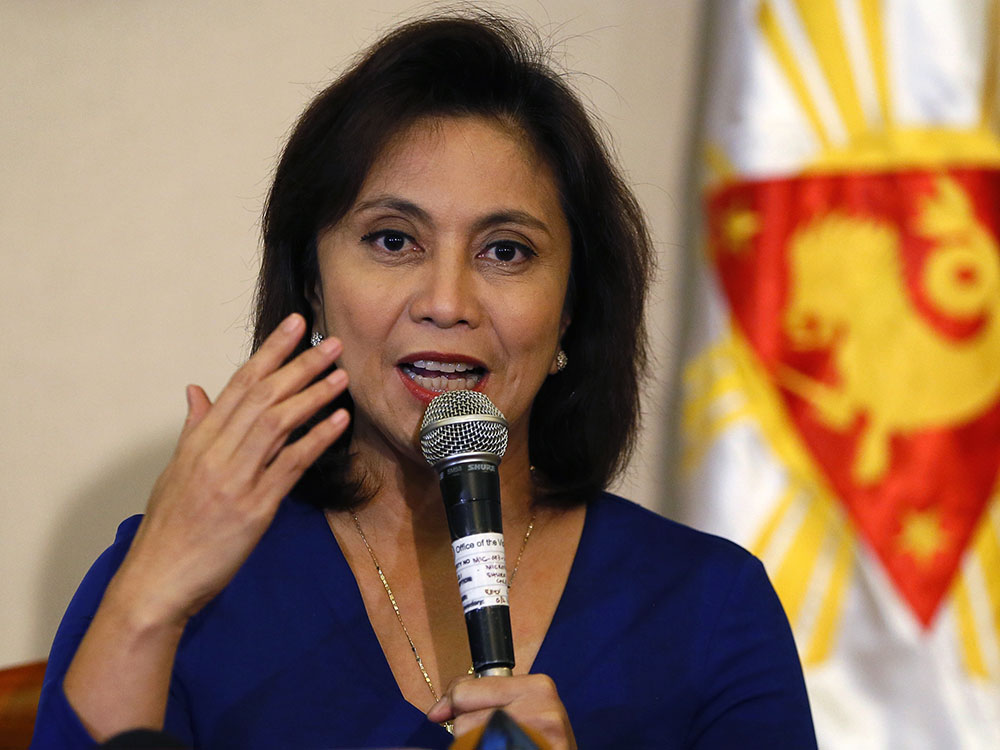 Vice President Leni Robredo's overall net satisfaction rating stayed "good" at +41 in September—rising by five points from +36 in June. Out of the 1,500 people surveyed, 62 percent were satisfied with the performance of the vice president while 21 percent were dissatisfied. Sixteen percent were undecided. AP/Bullit Marquez, File
SWS: Robredo satisfaction rating up; Alvarez, Sereno scores drop
(philstar.com) - October 13, 2017 - 1:58am
MANILA, Philippines — Public approval of Vice President Leni Robredo rose in the third quarter of 2017, the latest Social Weather Stations survey suggests.
Robredo's overall net satisfaction rating stayed "good" at +41 in September—rising by five points from +36 in June.
Out of the 1,500 people surveyed, 62 percent said they were satisfied with the performance of the vice president while 21 percent were dissatisfied. Another 16 percent were undecided.
Robredo's satisfaction rating stayed "very good" in the Visayas at +60, "good" in Balance Luzon at +35, "good" in Mindanao at +31 and "moderate" in Metro Manila at +23.
Her majority approval ratings were found in urban areas, among the ABC sectors, among 35-44 year olds and among college graduates.
The net satisfaction of President Rodrigo Duterte, meanwhile, suffered an 18-point plunge. The president's "very good" rating of +66 in June to a "good" +48 in September.
SWS president Mahar Mangahas noted that the drop in Duterte's ratings is faster than average against his predecessors.
Political analysts said the recent drop in the chief executive's rating can be attributed to the rising number of extrajudicial killings in the country, his attacks on democratic institutions such as the Supreme Court and the Office of the Ombudsman, failure to deliver peace in Mindanao, among others.
Surveys are considered snapshots of respondents' sentiments and have at times been trumpeted when they are favorable to a person or party and played down when they are not.
READ: SWS president: Duterte ratings dip normal but faster than average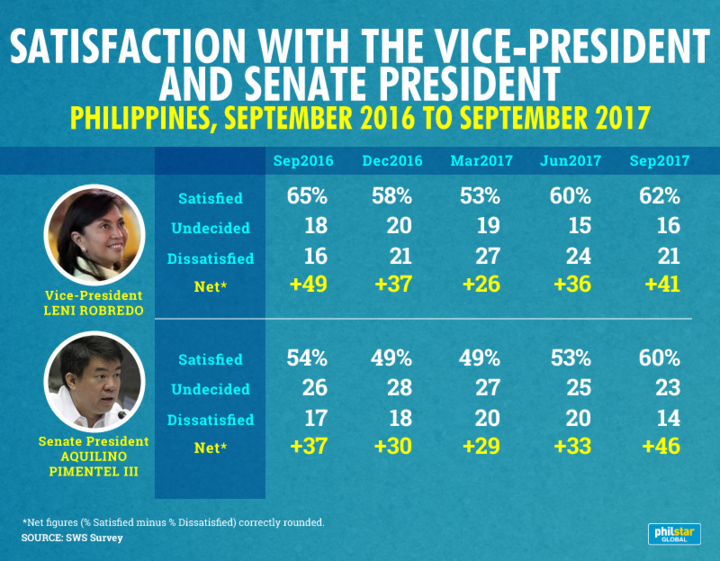 Koko's ratings at record high
Senate President Aquilino "Koko" Pimentel III reached a personal record-high of +41 in the September survey, a 13-point rise from +33 in June.
He maintained a "good" satisfaction rating with 60 percent of the respondents satisfied with his performance.
Fourteen percent of respondents said they were dissatisfied while 23 percent were undecided.
The gains in Pimentel's rating happened in urban areas, among social class D, among women and among high school and college graduates.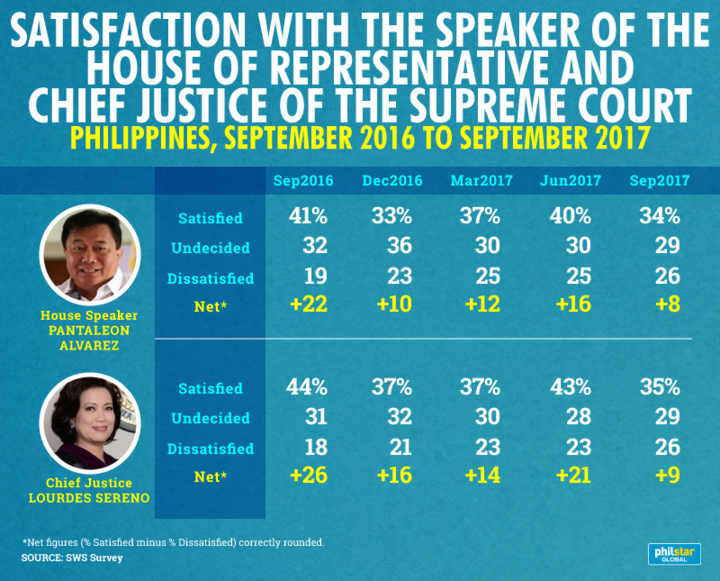 Dip in ratings for speaker, chief justice
The net satisfaction rating of House Speaker Pantaleon Alvarez plummeted to his personal record-low of +8 from +16 in June.
It fell by one grade to "neutral" from "moderate."
Thirty-four percent of the respondents said they were satisfied with his performance, 26 percent were dissatisfied and 29 percent were undecided.
The declines in Alvarez's ratings happened among class E and among 35- to 44-year-olds.
Chief Justice Maria Lourdes Sereno's net satisfaction rating also dipped from "moderate" to "neutral" at +9 in September.
Sereno's current rating is 12 points lower from +21 in June.
Thirty-five percent were satisfied with Sereno's performance, 26 percent were dissatisfied and 29 percent were undecided.
Double-digit declines in Sereno's net satisfaction ratings were found in both urban and rural areas, in all socio-economic classes, among men, across age groups except 35 to 54 year olds and across educational levels except among high school graduates.
The third quarter SWS survey was conducted from September 23 to 27.
During the course of the survey, the impeachment complaint filed by lawyer Larry Gadon against Sereno had already hurdled the House of Representatives' Justice committee after it found the complaint sufficient in form and substance.