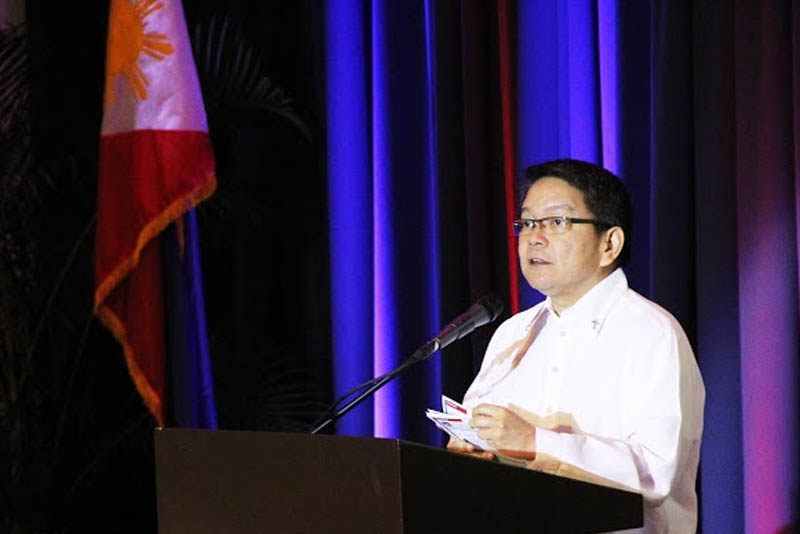 Ateneo de Manila University President Jose Ramon Villarin stressed that the Supreme Court, the Office of the Ombudsman and the Commission on Human Rights have been subjected to "egregious retaliatory" actions for their actions addressing the irregularities, corruption and human rights violations committed by the elements of the administration. AdMU photo
Ateneo president backs embattled constitutional bodies
(philstar.com) - October 13, 2017 - 11:08am
MANILA, Philippines — The president of Ateneo de Manila University on Friday called on the public to understand and protect the functions and roles of democratic institutions amid the threats of President Rodrigo Duterte hurled at these agencies.
"This call to defend our democratic institutions is not even a matter of political partisanship or persuasion. It is a call that is borne out of our conviction about what is right and just and truly democratic," Fr. Jose Ramon Villarin said.
He stressed that the Supreme Court, the Office of the Ombudsman and the Commission on Human Rights have been subjected to "egregious retaliatory" actions for their actions addressing the irregularities, corruption and human rights violations committed by the elements of the administration.
"Let us urge our leaders in government to allow full independence for these constitutional bodies to implement their crucial mandates by desisting from any form of intimidation in the guise of legal actions," Villarin said.
The university president noted that legitimate processes are being exploited to undermine these bodies from exercising their mandates.
He added: "We stand behind these constitutional bodies in their mission to pursue and attain transparency, accountability, truth and justice."
Last year, Villarin also condemned the spate of extrajudicial killings in the country and Supreme Court's decision to allow the burial of former dictator Ferdinand Marcos Sr at the Libingan ng mga Bayani.
The Ateneo Blue Babble Battalion also protested the cases of EJKs and the proposed measly P1,000 budget CHR in a performance last month. The lower house eventually restored the agency's budget.
Weakening of institutions?
Last week, Vice President Leni Robredo also called on Filipinos to respect constitutional institutions.
Robredo, a human rights lawyer, noted that the 1987 Constitution ensures the perils of martial law would not happen again in the country through the creation of constitutional offices such as the CHR, Office of the Ombudsman, Civil Service Commission and Commission on Elections.
READ: Robredo: Respect constitutional bodies like CHR, ombudsman
These agencies were created to check and balance any incumbent administration.
Last week, Duterte signed an Executive Order creating Presidential Anti-Corruption Commission which can probe and discipline officials and employees of constitutional bodies.
The release of the EO came a week after he threatened to probe the Office of the Ombudsman that is looking into his alleged hidden wealth. He accused the anti-graft agency of being involved in corruption and of employing "selective justice."
READ: Presidential anti-corruption panel can't probe constitutional bodies — Drilon
Duterte also dared Ombudsman Conchita Carpio Morales and Chief Justice Maria Lourdes Sereno to step down from office together.
The House Committee on Justice, moreover, found sufficient ground to impeach Chief Justice Maria Lourdes Sereno, who has been accused of culpable violation of the Constitution, corruption, other high crimes and betrayal of public trust.