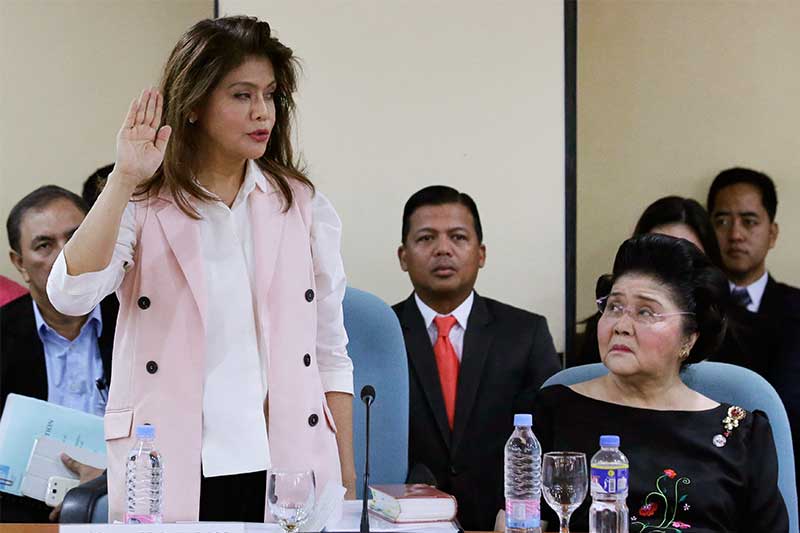 Ilocos Norte Governor Imee Marcos, left, is sworn as her mother Imelda, right, widow of the late strongman Ferdinand Marcos, looks on during a congressional inquiry at the House of Representatives in suburban Quezon city, north of Manila, Philippines on Tuesday July 25, 2017. The inquiry is based on a resolution filed by Majority Leader Rodolfo Farinas asking the Committee on Good Government and Public Accountability to look into the alleged anomalous vehicle purchases of the Ilocos Norte province using the tobacco excise tax fund. Six employees of the provincial government who were cited in contempt and detained for being evasive in their answers during the hearings were also released Tuesday. AP/Aaron Favila
Marcos family not yet keen on Imee running for Senate
LAOAG CITY, Philippines — The Marcos family is not yet keen on Ilocos Norte Gov. Imee Marcos' reported plan to run for a Senate seat.
The Ilocos Norte governor said they have yet to discuss any plans to run for higher office, saying that the ongoing electoral protest of her brother and former Sen. Ferdinand "Bongbong" Marcos is their priority.
Rumors circulated online that the lady governor intends to run for senator in 2019 with the help of groups like the 68,000-strong "Imee Marcos for Senator Movement".
Other groups have begun promoting an all-female lineup for 2019, which include Marcos, former president Gloria Macapagal-Arroyo, and Cebu 3rd District Rep. Gwendolyn Fiel Garcia.
Bongbong reportedly said earlier this month that his sister would be a "great" and "competent" senator.
But the lady governor said: "Hindi pa namin alam kung ano ang plano. Malabo, kasi tutok tayong lahat doon sa kaso ni Bongbong. Iyon ang pinakamahalaga. If ever I run for any office, pag-uusapan pa sa pamilya, but as of now we haven't talked about it."
The late dictator's family is predicting a rapid momentum of the electoral protest of Bongbong against Vice President Leni Robredo following the House of Representatives' impeachment of Commission on Elections Chair Andres Bautista.
Lawyer Vic Rodriguez, a Marcos spokesperson, claimed that "137 members of Congress took a patriotic stand and rose above personal and political agenda when they voted to impeach Comelec Chairman Andy Bautista."
"The attempts to bury the truth behind the systematic cheating in the 2016 elections… can now be revealed. Indeed, the wheels of justice grind slowly but they grind exceedingly fine," he added.
Bongbong said that he is counting on the Presidential Electoral Tribunal to be more efficient in handling his electoral protest.
"Yung nanay ko ay stockholder na ata sa Baclaran Church, kakasimba, para lang ma-resolve na yung election protest in BBM," Imee said while reiterating how important her brother's case is to the family
Robredo won the vice presidential race by a slim margin of 263,473 votes over Bongbong, who got 14,155,344 votes.