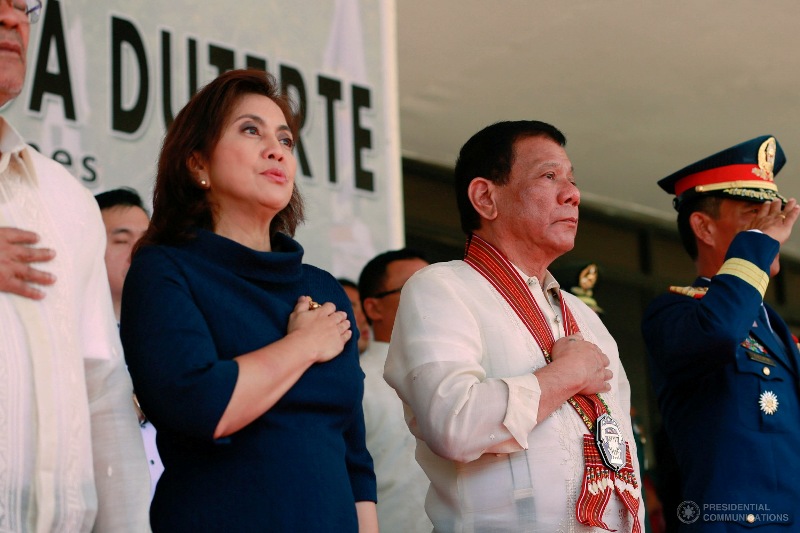 Speaking to reporters in Naga City on Friday, Vice President Leni Robredo said the visit is a good opportunity to show President Rodrigo Duterte the situation of the people, particularly what they need from the national government. Presidential Photo/King Rodriguez, File
Leni says Rody always welcome in CamSur
Janvic Mateo
(The Philippine Star) - October 21, 2017 - 4:00pm
MANILA, Philippines — Even if it meant losing party-mates to the ruling PDP-Laban, Vice President Leni Robredo said President Duterte is always welcome to visit her home province of Camarines Sur.
Speaking to reporters in Naga City on Friday, Robredo said the visit is a good opportunity to show Duterte the situation of the people, particularly what they need from the national government.
"In fact, we are happy because we heard that he promised to look into the situation of Naga airport," the Vice President said in Filipino.
"We have fought for it for a long time, and we have been waiting for it to be addressed. That's one of the good things that we got from his visit," she added.
Robredo was referring to the planned development of the Naga City airport, which was approved by the previous administration but was among the projects put on hold when Duterte took over.
The President went to Camarines Sur to attend a federalism forum and lead the oathtaking of some 6,000 elected officials who jumped ship to PDP-Laban.
He steered clear from Robredo's hometown Naga, and instead held the event at the Capitol Convention Center in Pili.
Among those who changed political parties are Camarines Sur Gov. Miguel Luis "Migz" Villafuerte, a former member of the Nacionalista Party. It was unclear how many members of Robredo's Liberal Party (LP) joined the PDP-Laban during the mass oath taking.
Asked about the mass exodus of politicians, the Vice President noted that it has been a regular occurrence every time there is a change of administration.
She said the present or future administrations should look at ways to strengthen the political party system in the country.
"I think one of the elements of democracy is having strong political parties wherein one joins because of belief and not because of who is sitting (in power)," she said. "Political parties should be the haven of those who have the same beliefs, those who will fight together."
The LP, which used to enjoy huge membership during the previous administration, lost majority of its members after its standard bearer Manuel Roxas II lost to Duterte last year.
Robredo, now the highest LP member in an elective post, chairs the former ruling party.
Debt trap
Meanwhile, Robredo has cautioned the government against entering into loan agreements with foreign countries like China to finance big-ticket projects in the country.
Speaking to reporters during a forum on the modernization of the Philippine National Railways (PNR) on Friday, Robredo urged transportation officials to look at alternative options such as public-private partnerships (PPP).
"If it is an ODA (official development assistance), that's basically a loan. It's huge, P171 billion. We may end up in a debt trap like what is happening in Sri Lanka," the Vice President said in Filipino, citing the South Asian country's problem repaying its debt to China.
"I hope we can look at alternatives and give the people what is beneficial for all. We are talking about debts, and all of us are going to have to bear (them)," she added.
The Vice President said she is not technically against the partnership with China, but maintained that a thorough study on all options is needed before pushing through with a project like the PNR modernization.