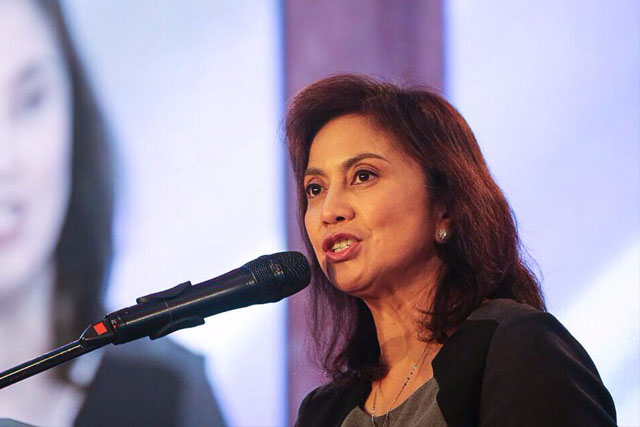 Vice President Leni Robredo satisfaction rating jumped five points to "good" +41 in the September SWS survey, from +36 in June. Office of the Vice President/Released, File
Ratings drop a wake-up call for leaders — Leni
(The Philippine Star) - October 21, 2017 - 4:00pm
MANILA, Philippines — A decline in the performance or public satisfaction rating of any government official or agency should serve as a wake-up call to assess the current policies and initiatives, according to Vice President Leni Robredo.
For his part, Rep. Carlos Zarate of party-list group Bayan Muna warned yesterday President Duterte's popularity ratings will fall further when his administration imposes new and higher taxes in January.
Pagkakaisa ng mga Samahan ng mga Tsuper at Operators Nationwide (PISTON) president George San Mateo also said a lot of operators and drivers were disappointed with Duterte after the President hurled "insults" at them.
Asked about the drop in support for the government's anti-illegal drug campaign, the Vice President said on Friday that periodic surveys can serve as a gauge for the government to see how the public responds to its actions.
"Most of the time – no, all the time – these are important because they serve as our wake-up call," Robredo said in Filipino. "When it falls, you will ask yourself, 'What mistake did I commit? What are the things that I did that the public did not like?'"
A recent Social Weather Stations (SWS) survey showed a sharp decline in the satisfaction rating of President Duterte, from a "very good" +66 in June to a "good" +48 last month.
A separate Pulse Asia survey, however, showed that Duterte's approval and trust ratings hardly changed at 80 percent last month, from 82 percent and 81 percent respectively in June.
Robredo's satisfaction rating jumped five points to "good" +41 in the September SWS survey, from +36 in June.
Her ratings dipped in the Pulse Asia survey, from 61 percent approval and 60 percent trust ratings in June, to 57 percent and 55 percent last month, respectively.
Recent surveys also showed the public showing support to the government's anti-illegal drug campaign even as many believe that the Philippine National Police are behind extrajudicial killings of alleged drug suspects.
In her interview, Robredo stressed that popularity should not always be equated with doing what is right.
"We have to balance it. We can do something right but is unpopular. It is dangerous if we only measure the popularity… What is right and what is wrong is universal," she said in Filipino.
Taxes and jeepneys
Zarate said Duterte's popular support will be further eroded when people feel the immediate adverse effects of these taxes in terms of higher prices of goods and services, he said.
He said the proposed P6 tax on diesel, kerosene, cooking gas and bunker fuel for electricity generation will immediately result in higher fares and prices, and higher cost of electricity.
He added that though the Senate and the House of Representatives have different proposals to spread the tax over a three-year period, "the total levy will still amount to P6."
Zarate pointed out that aside from the new tax, there would be increased levies on other petroleum products, including gasoline, and more goods and services would be subject to the 12-percent value added tax.
Based on the administration's own estimate, the net negative impact on the public of the so-called tax reforms is nearly P300 billion a year.
"That means that taxpayers will pay an additional P300 billion every year, on top of what they are now contributing to the national treasury," he stressed.
The tax reform bill is now with the Senate.
For San Mateo, Duterte lost a major base of supporters after his tirades against jeepney operators and drivers who conducted a two-day transport strike last week.
Duterte threatened to get rid of old jeepneys next year as he pushed for the government's modernization program for public utility vehicles. He set Jan. 1 of next year as deadline for the modernization.
In response to the two-day strike, Duterte said PISTON must comply with the laws, even if its members are poor.
This did not sit well with operators and drivers who, Mateo said, voted for Duterte.
"He got angry and cussed the operators and drivers then he said he doesn't care if we go hungry," San Mateo said in a news forum in Quezon City.
Mateo said PISTON has over 200,000 members nationwide, most of whom were supportive of Duterte.
However, they were displeased following hurtful statements from the President.
San Mateo said drivers from other groups have even posted clips on social media showing their displeasure to the President.
"They removed stickers expressing support for Duterte," he said.
San Mateo reiterated they are not against modernization but only against a program that would open them to capitalists and eventually kill their sector.
"Mahirap kayo? P****g i*a, umalis kayo. Magtiis kayo sa hirap at gutom, wala akong pakialam. It's the majority of the people, huwag niyong ipasubo ang tao," Duterte said in a televised speech after the two-day strike.
Duterte stressed it was time operators comply with the jeepney modernization program to ensure public road safety and public health.
He also linked PISTON to the Communist Party of the Philippines and said they were committing rebellion.
Asked about the government's plan to phase-out old jeepneys and replace them with environment-friendly models, Robredo said the welfare of all stakeholders should be taken into account.
"The idea of modernization will be good for the entire society. But we should also look at its impact on the drivers… What can we do to help them to comply?" the Vice President said.
She urged those involved not to let anger be the driving force of the situation and sit down to discuss ways on how the issue can be properly addressed.
The government was forced to suspend classes and work in government offices on Monday and Tuesday due to the nationwide transport strike organized to protest the jeepney modernization program. – With Emmanuel Tupas