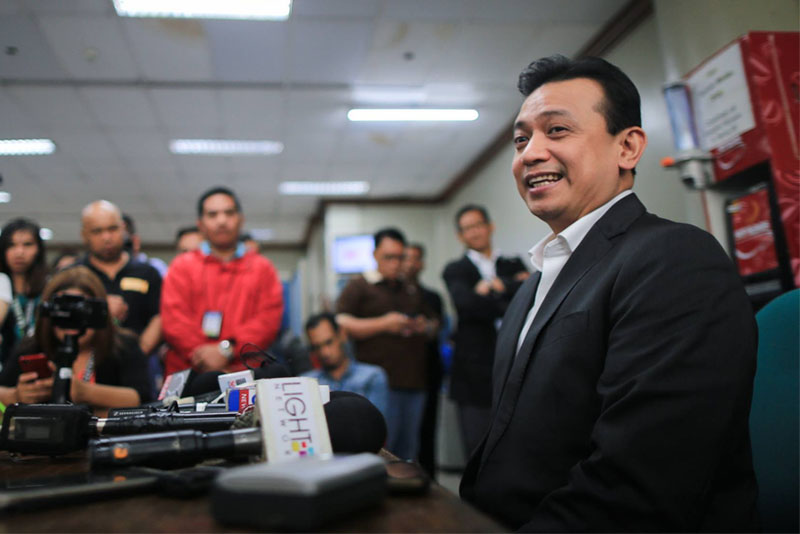 In this Oct. 2, 2017 photo, Sen. Sonny Trillanes holds a news conference. On Monday, the Department of Justice filed a libel case against Trillanes for a statement he supposedly made two years ago against then Vice President Jejomar Binay. Senate PRIB/Joseph Vidal
DOJ slaps Trillanes with libel case for 2015 statement
(philstar.com) - October 23, 2017 - 9:44am
MANILA, Philippines — The Department of Justice recently filed a liberal case against opposition senator Antonio Trillanes IV for a statement he made two years ago.
Senior Assistant State Prosecutor Edwin Dayog filed libel against Trillanes before a Makati court.
The charge sheet was dated Oct. 9, 2017, but the alleged libelous statement of Trillanes was made "on or about Aug. 19, 2015."
Trillanes, an outspoken critic of the Duterte administration, is accused of "willfully, unlawfully, feloniously, and with malice in fact, publicly make the following statement without regard to the truth or falsity thereof and cause the same to be published."
The DOJ said that Trillanes "[defamed, maligned] the reputation and [caused] the dishonor of then Vice President Jejomar Binay."
The news article specifically cited in the charge sheet was dated Aug. 20, 2015 where Trillanes was quoted as sending a message to reporters: "On our blue ribbon committee hearing, we will be exposing the ghost citizens of Makati during incumbency of the Binays who have been claiming benefits. The whole racket amounts to over P100 million per year."