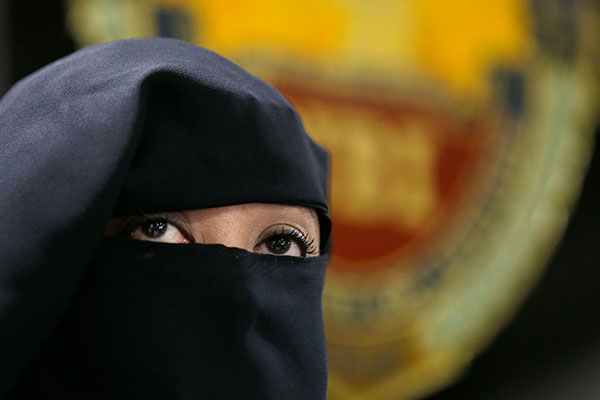 Wearing a burqa, Karen Aizha Hamidon, the widow of the leader of a militant band allegedly sympathetic to the Islamic State group, is presented to reporters during a news conference at the National Bureau of Investigation in Manila, Philippines, on Wednesday, Oct. 18, 2017. Authorities said she recruited foreign fighters to the country and spread extremist propaganda. AP Photo/Aaron Favila
Alleged Maute recruiter says she was tricked into sending messages
(philstar.com) - November 10, 2017 - 5:36am
MANILA, Philippines — Suspected terrorist recruiter Karen Hamidon claims that she was only duped into committing the crimes she is being accused of.
Hamidon on Friday executed her counter-affidavit on the rebellion raps in relation to cybercrime law filed against her by the National Bureau of Investigation-Counter Terrorism Division.
The 36-year old Hamidon denied she intended to recruit fighters to join the Maute terror group, which has claimed allegiance to the Islamic State of Iraq and Syria.
She said she was "cajoled and seduced" by a certain J A to post the messages in a chatroom inviting people to join the fighting in Mindanao.
READ: Alleged Maute recruiter seeks time, lawyer to face rebellion case
She said that she met a certain "J A" on Facebook in September.
They later joined a group called "Salungat ng Taghut" on messaging application Telegram.
"J A managed to gain my trust and had become my confidant and persuaded me to do things which is against my will," Hamidon said.
She said that J A told her he would send her "wifi" and SIM cards by courier, but the courier turned out to be an arresting team.
Hamidon argued, through counsel, that "she was instructed and told to post messages in Telegram by J A against the will of the respondent which negates felonious intent."
"I vehemently deny the charges against me because there was an instigation on my part which is illegal. The acts allegedly committed were not done voluntarily and against my will and caprice," Hamidon added.
In an interview with reporters, Hamidon also insisted that she cannot start or join a rebellion as she is just a call center agent.
The NBI arrested her in her residence at the Bonifacio Global City in Taguig in October.
According to Justice Secretary Vitaliano Aguirre II, "Hamidon has been a person of interest to authorities since she gained international notoriety in the middle of 2016, when she successfully recruited several Indian nationals to come to the Philippines and join the radical Islamic extremist groups in Mindanao."
READ: Militant's widow recruited foreign fighters for Marawi siege - Aguirre
NBI agent Joshua Raymundo earlier said that India has asked the Philippines' aid in investigating Hamidon for allegedly encouraging several Indian nationals to join Islamic State group in 2016.
Senior Assistant State Prosecutor Peter Ong, after Friday's hearing, deemed the case submitted for resolution.
Although Marawi City was declared liberated on October 23, mopping up and clearing operations continue in the capital of Lanao del Sur province.