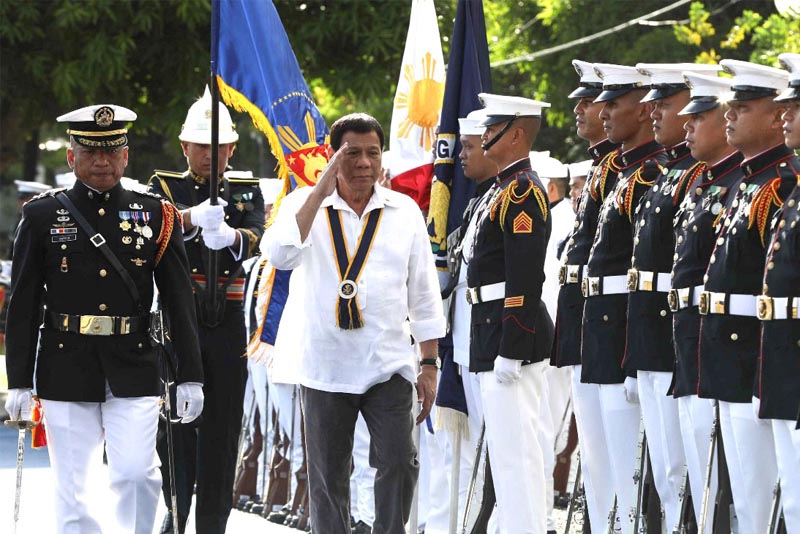 President Rodrigo Duterte is accorded with military honors upon his arrival at Fort Andres Bonifacio in Taguig City for his attendance to the launching of the Karne, Isda Supply Suporta sa Masa at Ekonomiya (KISS ME) Project on Nov. 7, 2017. Presidential Photo/Ace Morandante
Without AFP's support, revolutionary government no longer in Duterte's playbook?
(philstar.com) - November 10, 2017 - 6:31am
MANILA, Philippines — Is President Rodrigo Duterte's plan to declare a revolutionary government off the table now after the Armed Forces of the Philippines rejected such an idea?
Vice President Leni Robredo recently said the military assured her that it will not back a revolutionary government or any moves "that threatened our Constitution."
Asked if Duterte still plans to place the country under a revolutionary government, the president, without giving a categorical answer, said in a media interview on Thursday: "Sino ba naman mag-announce mag-revolutionary ka? 'Di mag-revolutionary ka na diretso (Who would announce that he is going to declare a revolutionary government? Just do it)."
"Bakit ka pa mag-drama-drama (Why is there a need for drama)?" he added.
Commenting on Robredo's statement, Duterte, apparently in jest, said the military won't support his plan to establish a revolutionary government because the vice president told them so.
"Tama siya. Tinanong ko ang military. Sabi nila, 'Hindi kami susuporta ng revolutionary government.' Sabi ko, 'Why?' Sabi nila, 'Dahil sabi ni Vice President Robredo.' 'O bakit?' Sabi niya, 'Mas gusto namin siya. Babae at saka hindi nagmumura.' Ganun," Duterte said.
(She's right. I asked the military. They said, 'we won't back a revolutionary government.' I asked, 'why?' They said, 'because Vice President Robredo told us not to support it.' 'O why?' They said, "We like her more. She's a woman and she doesn't curse.')
"Ako, 'O sige. 'Di hindi tayo mag-revolutionary government.' Tama, tama siya (I said, 'okay, we will no longer have a revolutionary government.' She was right)," he added.
In a television interview in 2015, then Davao City Mayor Duterte first mentioned a plan to set up a revolutionary government if elected.
In the course of floating the idea, Duterte — not even a candidate at the time — indicated that he would padlock Congress and the judiciary through extraconstitutional means.
Last month, Duterte raised concerns of a looming dictatorship after threatening to found a revolutionary government to quell a supposed conspiracy by communists, Liberals and other factions to destabilize his administration.
This was despite the military and Defense officials' repeated assurance that they have not monitored any destabilization plots.