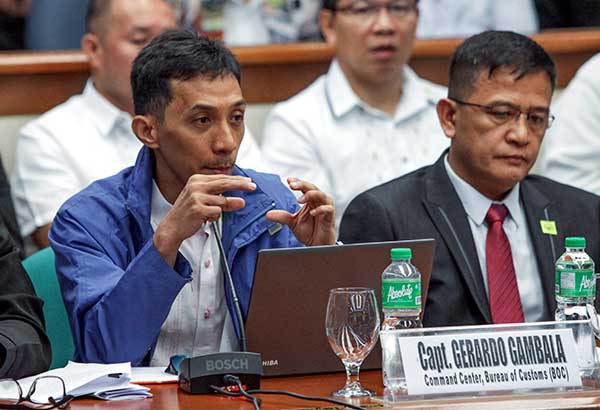 Former Customs Commissioner Nicanor Faeldon shown above with BOC command center chief Gerardo Gambala during a Senate probe. GEREMY PINTOLO
Ex-Customs officials linked to shabu shipment get DOTr posts
(philstar.com) - November 10, 2017 - 7:53am
MANILA, Philippines — President Rodrigo Duterte has transferred two former Bureau of Customs officials accused of involvement in the P6.4-billion shabu mess to the Department of Transportation.
In an omnibus e-mail sent to reporters, Malacañang on Friday released the appointment papers of Milo Maestrecampo — former chief of the Customs import assessment service — and former deputy commissioner Gerardo Gambala.
Both appointments were dated November 6.
Maestrecampo, a former Army captain, has been appointed assistant director general II of the Civil Aviation Authority of the Philippines, an agency attached to the DOTr.
Meanwhile, Gambala is now director IV at the Office for Transportation Security of the DOTr. He was also a captain in the Army.
Both Maestrecampo and Gambala earlier sent a resignation letter to the president amid congressional hearings on the P6.4-billion worth of smuggled shabu from China.
Gambala and Maestrecampo were among those accused by Sen. Panfilo Lacson of receiving grease money from smugglers.
Gambala and Maestrecampo's new appointment manifests Duterte's continued trust to the two former Oakwood mutineers brought to the BoC by former Customs commissioner Nicanor Faeldon. Duterte earlier thanked them for supporting his presidential bid.
Faeldon faces a string of drug and criminal charges before the Department of Justice.
READ: New Customs chief bringing own team
New appointees
Other officials who were appointed last November 6 were Alexander Macario (assistant secretary of the interior and local government), Lyndon Suy (health assistant secretary), Carolina Taino (health undersecretary), Rolando Domingo (health undersecretary), Eduardo de Vega (ambassador to Belgium, Luxembourg, the Commission of the European Communities and the Council of the European Union), Denis Lepatan (ambassador to Switzerland with concurrent jurisdiction over Liechtenstein), Jocelyn Batoon-Garcia (ambassador to Norway with concurrent jurisdiction over Iceland, Denmark, Finland and Sweden), Mito-On Ibra (director IV of the National Commission on Muslim Filipinos), Antonio Partoza Jr. (board member representing the land-based recruitment sector of the Overseas Workers Welfare Administration) and Jesus Aranas (board member of Government Service Insurance System). - with report fom Alexis Romero