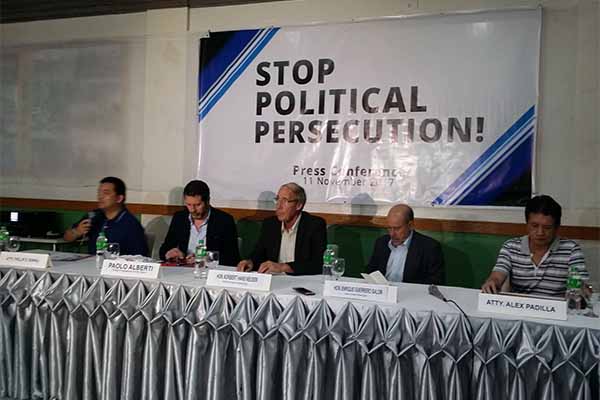 Members of the European Parliament and members of the legal team of Senator Leila De Lima held a press conference after the members of the international group were denied a visit to the De Lima. The STAR / Manny Tupas
European lawmakers denied visit to De Lima
(philstar.com) - November 11, 2017 - 6:12am
MANILA, Philippines — Members of an international lawmakers group on Saturday hit the "non-action" of the Philippine National Police on their request to visit detained Senator Leila De Lima.
Enrique Guerrero Salom, Norbert Hans Neuser, Paolo Alberti—members of the European parliament—were prevented from visiting the detained senator at her detention cell at the police headquarters in Quezon City.
Salom, the president of Progressive Alliance of Socialists of Demorcrats in the European Parliament, said that the they are "disappointed" with their foiled visit to De Lima, an outspoken critic of President Rodrigo Duterte.
"We are very concerned with the situation of Sen. De Lima," he said, adding that they fully respect the legal processes in the country.
He reiterated the European parliament's earlier request that De Lima be allowed to "play her role as a senator."
Members of the Geneva-based Inter-Parliamentary Union in a report dated October 18 also called on the "relevant authorities to release [De Lima] immediately and to seriously consider abandoning the legal proceedings should serious evidence not rapidly be forthcoming."
It added that its mission report "shows that the steps taken against [De Lima] came in response to her vocal opposition to President Duterte's war on drugs, including her denunciation of her alleged responsibility for the extrajudicial killings, and that there is no evidence to justify criminal cases against her."
Alex Padilla, one of the senator's counsels, this is the third time the members of the EU parliament were denied a visit. It was supposedly scheduled at 9-10 a.m.
"They (PNP) refused to act on the application, submitted as early as October 26," Padilla said.
De Lima isolation
The veteran lawyer also said that De Lima is lamenting her "seeming isolation and restrictions."
The senator has been detained since February 24, following the warrant of arrest issued by Muntinlupa Regional Trial Court Branch 204.
She sought the nullification of her arrest in a petition before the Supreme Court, but on October 10, the justices voted 9-6 to junk her petition due to lack of merit.
"She is not a convicted prisoner she is entitled to all the rights for detention prisoners including visits from counsel, staff, friends," the lawyer added.
De Lima's legal team, headed by former Solicitor-General Florin Hilbay, has filed a motion for reconsideration for her case last November 3. — with a report from Manny Tupas