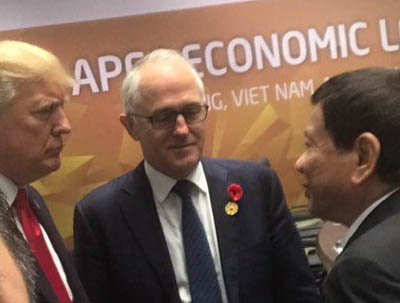 Cropped photo released by Special Assistant to the President Bong Go on Saturday, Nov. 11, 2017 showing US President Donald Trump, Australia's Prime Minister Malcolm Turnbull and Philippine President Rdorigo Duterte talking on the sidelines of the APEC Summit in Vietnam.
In Vietnam, Duterte, Trump meet for the first time
(philstar.com) - November 11, 2017 - 6:26am
MANILA, Philippines — President Rodrigo Duterte met his American counterpart, Donald Trump, for the first time on the sidelines of the Asia-Pacific Economic Cooperation Summit in Vietnam on Saturday.
A selfie photo released by Secretary Christopher Go, Duterte's special assistant, shows the two leaders with Australian Prime Minister Malcolm Turnbull in an informal meeting.
Go said the talk between Trump and Duterte was short, with the American leader telling him, "See you tomorrow."
FULL COVERAGE: ASEAN Summit in the Philippines
Trump is scheduled to arrive in the Philippines on Sunday as the last leg of his Asia tour—his first as the newly elected president of the US.
The US is a treaty ally of the Philippines, and Trump's visit, observers say, will seek to reaffirm the longstanding alliance.
Duterte has taken a softer approach toward Trump upon the latter's election in 2016 compared to his predecessor, Barack Obama, whom he once cursed at for criticizing the Philippines' bloody war on drugs.
On Friday, Duterte followed up his series of rebukes of former US President Obama, dropping a racial slur and calling him "arrogant."
But Duterte has previously praised Trump and claimed that he shared at least one trait with him—a penchant for colorful statements.
The transcript of a phone call between the two leaders were also leaked to the press in May. In the supposed conversation, Duterte expressed concern over North Korean nuclear crisis, while Trump lauded Duterte's efforts against narcotics.
Human rights organizations slammed Trump's statement on Duterte's drug war, which has led to the killing of thousands of drug suspects and other victims.
Trump and Duterte are scheduled to hold a bilateral meeting on Sunday ahead of the ASEAN Summit in Manila.