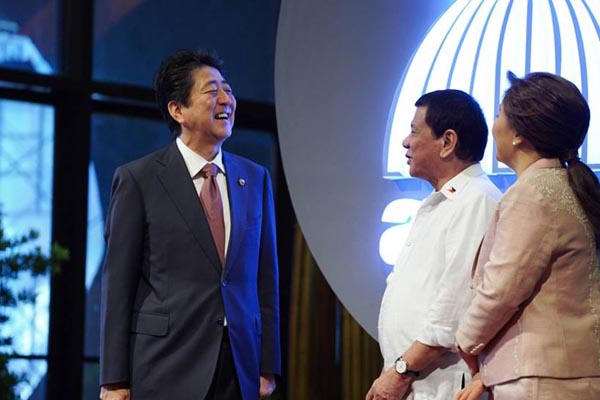 During their bilateral meeting, President Rodrigo Duterte reaffirmed that the Philippines has strong relations with Japan. Presidential Communications Operations Office
Philippines, Japan firm up funding for Manila subway, Marawi rehab
(philstar.com) - November 15, 2017 - 6:10am
MANILA, Philippines — The Philippines and Japan exchanged diplomatic notes on Japanese assistance to proposed infrastructure projects, including Manila's first subway, and Marawi rehabilitation.
President Rodrigo Duterte and Japan Prime Minister Shinzo Abe witnessed the signing of notes on the sidelines of their bilateral meeting during the 31st Association of Southeast Asian Nations Summit Monday.
The Japanese government will provide ¥104.53 billion (P46 billion) for the first phase of the Metro Manila Subway Project.
The subway will run from Mindanao Avenue in Quezon City to Food Terminal Inc. in Taguig City and end at Ninoy Aquino International Airport in Parañaque City.
The Department of Transportation said the country's first ever subway is "on track," with the groundbreaking scheduled in the fourth quarter of 2018.
The signing of the loan agreement will be in January.
The exchange of notes between the two countries likewise cover the construction of a bypass road along the Philippine-Japan Friendship Highway in Plaridel, Bulacan. The loan provision amounts to ¥9.399 billion (P4 billion).
The Japanese government will also provide an aid grant of ¥2.5 billion (1 billion) to fund the procurement of equipment and materials for counterterrorism such as coast watch radars and the reconstruction of the war-torn Marawi City.
In September, Defense Secretary Delfin Lorenzana announced that Japan has pledged P100 million for Marawi rehabilitation.
Japan's Ministry of Foreign Affairs said these projects were part of the country's financial support of ¥1 trillion yen over the next five years.
READ: Marawi rehab, Manila subway project to be discussed during Duterte's Japan visit
Strong ties
During their bilateral meeting, Duterte reaffirmed that the Philippines has strong relations with Japan.
"There's a thing here that says that I should reaffirm, and I am reaffirming this by—in the strongest possible language that we have a very strong bond. It's almost a sentimental attachment for many years," he said.
He likewise expressed his gratitude to Abe for Japan's support during the Marawi crisis and the provision of aircraft and radar to the Philippines.
"We are aware that you have been helping us, especially in Marawi even during the siege and we appreciate it very much. In behalf of the people of Marawi, I'd like to thank you again," Duterte said.
The chief executive also expressed his support to back Japan's stance against North Korea.
"We condemn his several launching of missiles. It is bad. It puts a strain on everybody not only in Japan but all over the world. And he should realize that he'd be responsible for ending life in this planet if his mind goes out of control," he said.
During his press briefing Tuesday night, Abe said that he and Duterte agreed to enhance the cooperation between the two countries.
"President Duterte and I had three summit meetings this year. Collaboration with regards to resolving the North Korea issue, maritime security and terrorism, we have agreed to deepen our cooperation," the Japanese leader said.
Ahead of the Asia Pacific Economic Cooperation and ASEAN summits, Duterte visited Japan in late October to boost ties. His visit came days after Abe's Liberal Democratic Party won an overwhelming victory during the snap elections.
Duterte visited Japan in October last year, which was capped by investment pledges worth $1.8 billion
READ: Japan pledges over $1B loan to Philippines to fund key infra projects