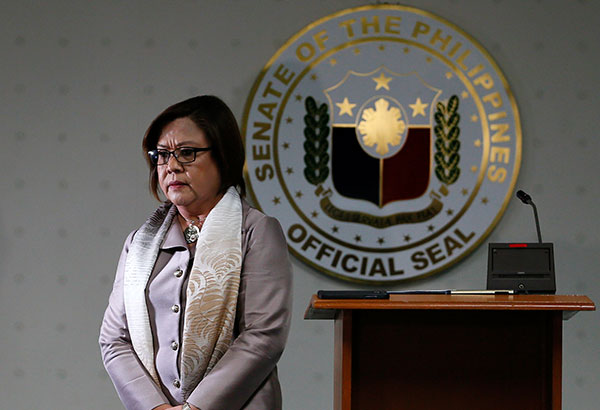 Detained Sen. De Lima said the denial of visits of foreign dignitaries "legitimizes oppression and political persecution." AP/Bullit Marquez
De Lima slams PNP over 'repeated denial' of foreign visitors
(philstar.com) - November 21, 2017 - 9:29am
MANILA, Philippines — Sen. Leila de Lima slammed the Philippine National Police for supposedly barring high-profile foreign delegates from visiting her in her detention center in Camp Crame.
De Lima said the denial of visits of foreign dignitaries "legitimizes oppression and political persecution."
"These are not terrorists or in any way threats to national security or public order. These are dignitaries of considerable stature in their respective countries and even globally as member of the Global Progressive Forum," De Lima said.
The detained lawmaker added: "This is so wrong and unjust."
She cited three instances when groups of international visitors were denied access to her.
Last November 11, delegates of the GFP were prohibited from visiting the senator despite complying with the 10-day required notice rule.
Before that, Liberal International President Juli Minoves and the ASEAN Parliament for Human Rights were supposed to visit De Lima on July 22 and September 19, respectively, but were not allowed to enter her cell.
LI Human Rights Chair Markus Leoning was able to visit De Lima in her cell but Minoves was denied entry by custodial center officers due to conflicts in paperwork.
READ: PNP bars Liberal International president from seeing De Lima
On July 19, lawmakers from the European Union got their chance to check the condition of De Lima inside the prison.
De Lima also lamented PNP's failure to accord even the courtesy of a formal response to her guest's requests.
"What's happening? These cannot be mere instances of administrative lapses and/or incompetence on the part of PNP authorities," she said.
The senator also asked the authorities to respect her rights, which include allowing her visitors to see her.
"I demand respect for my rights, among them visitors' access, as a detention prisoner who is constitutionally presumed innocent, as I am truly innocent, and as a sitting and working Senator of the Republic," De Lima said.
De Lima, an outspoken critic of the administration, was arrested in February on charges that she accepted bribes from jailed drug lords when she was the secretary of the Department of Justice. She has repeatedly denied allegations and reiterated her innocence.