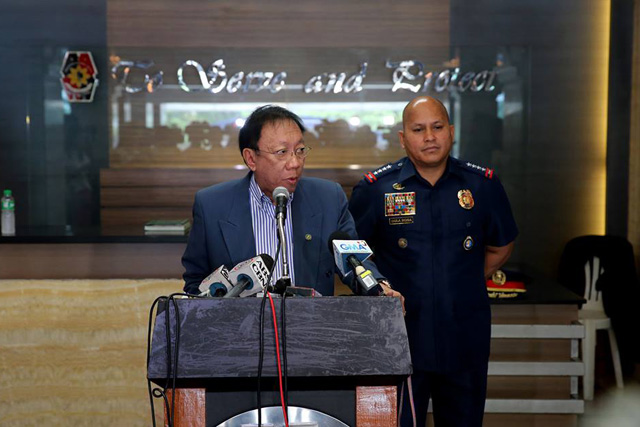 The Supreme Court will resume tackling the petitions against President Rodrigo Duterte's drug war on November 28. Key officials in the drug war are expected to defend the bloody campaign before the justices. File
Gov't officials to defend drug war before SC next week
(philstar.com) - November 21, 2017 - 1:29pm
MANILA, Philippines — The Supreme Court on Tuesday summoned key officers of the government as it continues deliberations on the petitions against President Rodrigo Duterte's bloody drug war.
The following officers are expected to appear at 2 p.m. on November 28 for the next hearing on the two petitions challenging the constitutionality of the drug war:
Philippine National Police chief Director General Ronald "Bato" Dela Rosa
Department of the Interior and Local Government officer-in-charge Catalino Cuy
Philippine Drug Enforcement Agency chief Aaron Aquino
Dangerous Drugs Board officer-in-charge Jose Marlowe Pedregosa
National Police Commission chief Atty. Rogelio Casurao
PNP's Internal Affairs Service Inspector General Alfegard Triambulo
Several government officials and members of the police force were named as respondents in the two petitions being tackled by the SC.
Chief Justice Maria Lourdes Sereno said Solicitor General Jose Calida would be given 30 minutes for his opening statement.
On Friday, Calida filed a 63-page comment on the case where the government's chief legal representative belittled legal criticisms of the Duterte administration's war on drugs. He said the petitions were done "under the guise of human rights protection."
Calida said the drug war is being "emasculated and undermined" by petitions of the families who lost their loved ones in the violent police operations.
While the solicitor general lamented the "unfortunate" loss of lives from police operations, he said the killings "do not automatically render the anti-drug operation conducted by the respondents 'unlawful' as would entitle the petitioners to protection of writ of amparo."
On Tuesday, Duterte's war on drugs was challenged for the first time before the Supreme Court.
Two groups of petitioners, represented by human right lawyers, sought for a writ of amparo or protection and challenged the constitutionality of the drug war.
Free Legal Assistance Group head Chel Diokno and Center for International Law lawyer Joel Butuyan faced the high court and argued their case on why the PNP memorandum ordering the conduct of Oplan Double Barrel and the DILG memorandum for Project Masa Masid should be declared unconstitutional.
The justices grilled the petitioners on the relief they are seeking before the SC and their specific contentions on the two government memoranda that are crucial in the drug war.