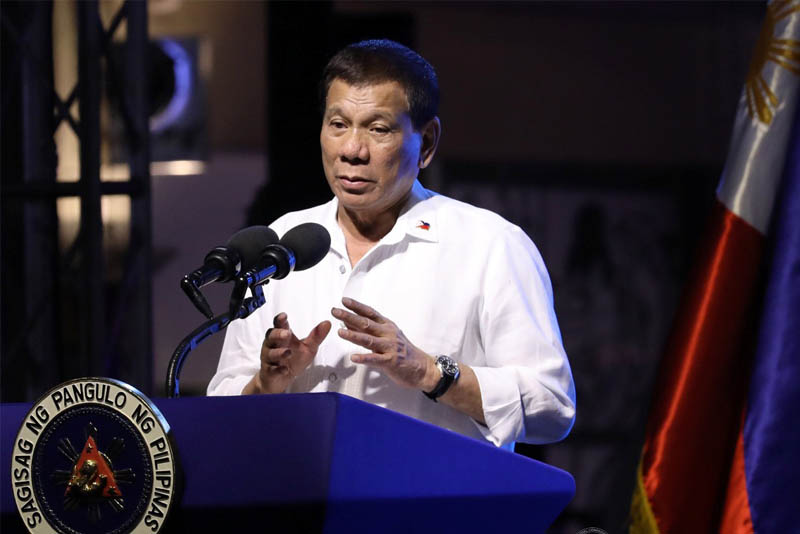 President Rodrigo Duterte, in his speech during the tribute program dubbed 'Ang Huling Tikas Pahinga: Isang Pagpupugay sa mga Bayani ng Marawi' held at the Bonifacio High Street in Bonifacio Global City (BGC), Taguig City on Nov. 21, 2017, recalls how he risked his life just to visit the soldiers in Marawi City citing that it's his duty as Commander-in-Chief to check the condition of the troops. Presidential Photo/Rey Baniquet
Palace to UN: Duterte's threat to slap Callamard just 'unorthodox rhetoric'
(philstar.com) - November 22, 2017 - 9:01am
MANILA, Philippines — The United Nations should see past President Rodrigo Duterte's colorful language, Malacañang said Wednesday after the international organization denounced threats made by the maverick leader against one of its investigators.
High Commissioner for Human Rights spokesperson Rupert Colville said the UN's rights body "deplores the repeated insults and threats of physical violence" made by Duterte and his supporters against UN special rapporteur Agnes Callamard.
Colville cited Duterte's threats to slap Callamard should she investigate him for alleged extrajudicial killings in the government's war on drugs.
Responding to the strong condemnation, presidential spokesperson Harry Roque advised the UN not to judge Duterte based on his firebrand language but by "what he stands for and the values he holds dear."
"We need to point that the President's remarks on Callamard were addressed to a Filipino audience who are used to the chief executive's unorthodox rhetoric," Roque said.
The Supreme Court on Tuesday started hearing in oral arguments the petitions seeking to declare Duterte's brutal drug war as unconstitutional.
Human rights watchdogs say Duterte could be committing crimes against humanity amid mounting fatalities and alleged extrajudicial killings in his ferocious drug war. But the government has vehemently denied that by insisting that police are only killing in self-defense.
As UN's special rapporteur on summary killings, Callamard, who reports to the UN human rights council, landed in Duterte's crosshairs for condemning the spate of killings under his drug war.
Her planned probe here was terminated after she refused to heed Duterte's conditions, which she said violate UN protocols for country visit.
She has been subjected to "a tirade of online abuse, including physical threats," Colville said.
"This campaign, coupled with the repeated personal attacks on Ms. Callamard by President Duterte, seems to be designed to intimidate her into not carrying out the mandate bestowed on her by the Human Rights Council," Colville added.
'Deeply insulting'
Citing the UN expert's unannounced trip in the country last May, Roque reiterated in his reply to the UN that Callamard "is not a competent and impartial rapporteur."
The Palace spokesman also told the UN that Duterte's standing offer to host a global human rights summit "shows that this administration welcomes disinterested and apolitical human rights experts in the country."
"The way she conducted herself does not befit her office. Lest we forget, she came unannounced to the country in May this year even while the terms of her official visit were still being finalized," said Roque, a human rights lawyer himself.
"And she did so using an event organized by a group that was extremely critical of the administration and presenting herself as a resource person for that event," he added.
"Her arrogance in going through the back-door not only went against protocol, but is deeply insulting."
To recall, Callamard had clarified she was not on an official visit in the country in May. "I am here in response to an invitation to participate to an academic conference," she said.
Last August, Duterte hurled a slew of invectives at Callamard, who had urged the government to make the death of 17-year-old student Kian delos Santos the last.
She also asked Duterte to investigate all "unlawful deaths" and to stop all murders.
READ: Pardon his French: Duterte curses at Callamard for comments on Kian case