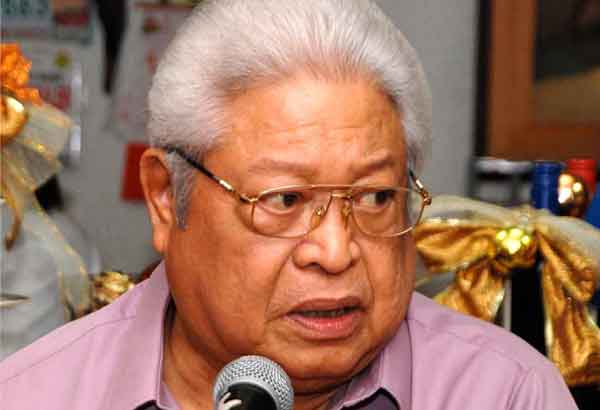 Opposition Rep. Edcel Lagman yesterday sent Mindoro Oriental Rep. Reynaldo Umali, who chairs the House of Representatives committee on justice, a letter containing his request. File
Lagman wants to grill SC justice in hearing
Jess Diaz
(The Philippine Star) - November 24, 2017 - 4:00pm
MANILA, Philippines — Opposition Rep. Edcel Lagman of Albay wants to grill Supreme Court Justice Teresita de Castro in case she shows up at next week's hearings on the impeachment case against Chief Justice Maria Lourdes Sereno.
Lagman yesterday sent Mindoro Oriental Rep. Reynaldo Umali, who chairs the House of Representatives committee on justice, a letter containing his request.
"I write to earnestly request your honor to extend your liberality in allowing me to propound clarificatory or cross-examination questions to Supreme Court Associate Justice Teresita L. de Castro in the event she appears as a witness in the impeachment proceedings," he said.
"Following the doctrine that every rule has an exception, I am making this urgent request as an exception to the ruling of the chair and the committee on justice that non-members of the committee can attend but not participate in the proceedings," he said.
Lagman said he would appreciate the committee's favorable action on his request.
Last Wednesday, the Umali panel voted to prohibit Lagman and other non-members from participating in its deliberations on the impeachment complaint against Sereno.
It imposed a similar prohibition on lawyers of the Chief Justice.
Umali said non-members and Sereno's lawyers could attend the hearings but not participate directly in deliberations.
If they have questions for complainant Lorenzo Gadon and witnesses he may produce or the committee may subpoena, they could ask them through any committee member, Umali said.
After the panel imposed the restriction, leftist lawmakers walked out on the committee. Sereno's lawyers left the hearing after seeking Umali's permission.
Lagman sat through the proceedings until they ended.
The committee voted to invite not only De Castro but also other Supreme Court justices as well to its hearings next week.
The vote was taken after some committee members asked Gadon if he had "personal knowledge" of his allegation that Sereno altered one temporary restraining order (TRO) written by De Castro.
The complainant responded that he did not talk to De Castro and that he got his information from a reporter and a friend.
"We have a problem with that," Umali's Mindoro Oriental colleague Doy Leachon said.
Other committee members said this particular accusation of Gadon against Sereno was "hearsay."
They said this was contrary to the sworn statement the complainant, in compliance with the House impeachment rules, signed in which he declared that his accusations against the Chief Justice were "based on his own personal knowledge or on authentic documents."
It was at this point that some members suggested that the panel invite De Castro and Gadon's reporter-informant, but the justice committee decided to extend the invitation to all SC justices.
According to some committee members, De Castro is willing to attend next week's hearings on certain conditions, which the lawmakers did not specify.
If the Umali panel does not grant the request of Lagman, he could course his questions through other Liberal Party members sitting in the committee, including Jose Christopher Belmonte of Quezon City, Kaka Bag-ao of Dinagat Islands and Ramon Rocamora of Siquijor.