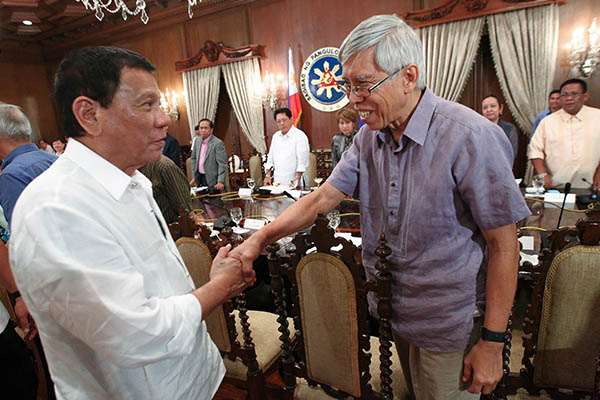 President Rodrigo Duterte presides over the meeting of the Government of the Philippines (GPH) and the National Democratic Front of the Philippines (NDFP) peace panels held in Malacañan's State Dining Room on Sept. 26, 2016. PPD/Ace Morandante
NDFP awaits written notice of termination of peace talks
(philstar.com) - November 25, 2017 - 7:27am
MANILA, Philippines — The Communist Party of the Philippines' negotiating arm now awaits the written notice from the government terminating intermittent peace talks that aimed to end nearly half-century long of insurgency.
Amid continued hostilities during negotiations, President Rodrigo Duterte on Thursday signed a proclamation unilaterally scrapping the peace process with Maoist rebels, whom he would consider a "terrorist group."
He also warned dozens of rebel leaders he temporarily released last year in order to participate in talks to surrender or face "punitive action."
In a statement, National Democratic Front of the Philippines panel chairperson Fidel Agcaoili said the left is now waiting for the document officially notifying the communists about the end of talks.
"Peace negotiations shall be deemed terminated 30 days after receipt of the written notice of termination," he said.
Agcaoili also said the NDFP is expecting the government to comply with the process of abrogating the peace negotiations.
Citing the Joint Agreement on Safety and Immunity Guarantees, "all immunities shall remain in full force and effect even after the termination of the peace negotiations," Agcaoili said.
The JASIG is among the basic agreements signed in 1995 between the government peace panel and the CPP-NDF. It guarantees the safety and immunity of leftist negotiators, consultants, staff and personnel participating in the peace process.
Duterte previously sent mixed signals on the peace negotiations with the Maoist guerillas.
He would express readiness to talk to the insurgents after declaring that peace negotiations with them are just a "waste of money."
"It has been the sad experience... to be subjected to the whimsical and arbitrary outbursts of GRP President Duterte," Agcaoili said.
A self-styled socialist, Duterte reactivated peace talks with communists in August last year. Both sides have been in on-off negotiations since 1986.
On Friday, the firebrand leader said peace talks collapsed because of the left's "pure nonsense" demand for a coalition government, which he opposed as he stressed he should maintain control over the military and the police.
Government troops were advised to stay alert on possible retaliatory attacks from 3,800-strong leftist fighters, said military spokesman Major-General Restituto Padilla.
"He (Duterte) will meet the fierce resistance of the people to his fascist rule and go down in history as a worse dictator than [Ferdinand] Marcos," Agcaoili also said.
"No one can rule a country in Mafia-style fashion where it becomes a personal turf and all forms of opposition are wiped out while the army and police are transformed into enforcers and hit-men," he added.