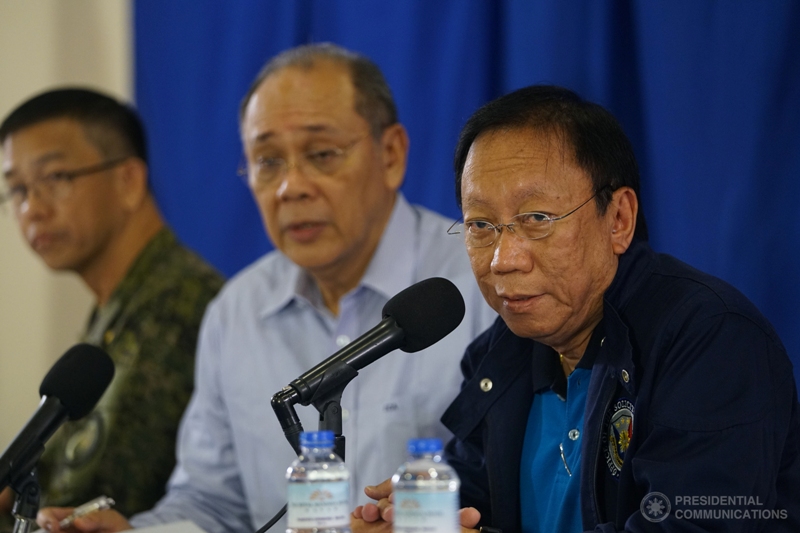 Solicitor General Jose Calida earlier said that the drug war is being "emasculated and undermined" by petitions of the families who lost their loved ones in the violent police operations. PCOO/File
Calida: Petitions vs drug war meant 'to destablize Duterte gov't'
(philstar.com) - November 28, 2017 - 8:46am
MANILA, Philippines — Solicitor General Jose Calida dismissed the petitions challenging the constitutionality of President Rodrigo Duterte's drug war as mere destabilization efforts.
Calida, on Tuesday, faced the Supreme Court en banc to defend the constitutionality of the Duterte's bloody drug war.
In his opening statement, the solicitor general said: "It is…not difficult to see that the present petitions are disingenuous moves to destabilize the Duterte administration and sow anarchy."
Police have recorded over 6,000 deaths under investigation since June 2016, while human rights group put the death toll under the administration's drug war at 13,000.
The SC resumed its oral arguments on the consolidated petitions of two groups of kin of Oplan Tokhang victims. Heads of the government's drug war, such as Director General Ronald "Bato" Dela Rosa, were invited by the high court as resources persons.
The chief legal counsel stressed: "The resolution by the Honorable Court of the legality of the drug war will define the future of this nation."
"The Court cannot, and should not, be swayed by the meretricious arguments of the petitions," Calida added.
"What the petitioners therefore want is a country mired in drug addiction, where lawlessness and anarchy hold sway," the solicitor general added.
READ: SC tackles drug war: Were rights violated?
But Associate Justice Marvic Leonen said that he finds it "disturbing" to have "tribune of the people" label the petitions as destabilization efforts.
Leonen, who was first to interpellate Calida, pointed out that government officials cannot be onion-skinned, to which Calida agreed.
He also illustrated how in the SC, when there is a dissenting opinion, "it is considered simply a dissent, an opinion at the margins…but not destablization."
Calida, however, said that he has already stated why he labeled the petitions as such in his opening statement and he stands by it.
Earlier, the solicitor-general filed its 63-page comment on the petition where he said that the petitions are done "under the guise of human rights protection."
Calida said the drug war is being "emasculated and undermined" by petitions of the families who lost their loved ones in the violent police operations. They are among the thousands of suspects killed in the drug war.