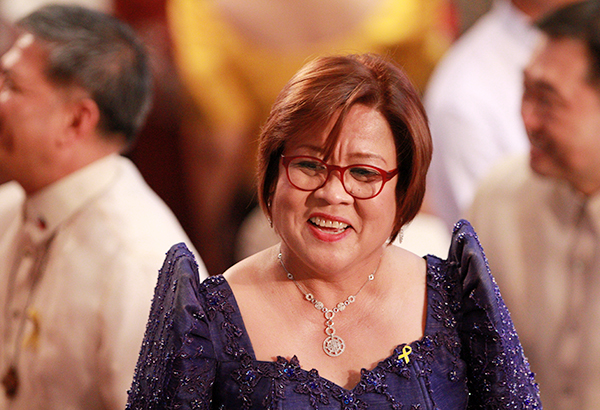 Aside from being a Leading Global Thinkers for 2017 awardee, Sen. Leila de Lima was also also recognized as one of 100 Most Influential People by Time Magazine, one of the notable Women Human Rights Defenders in 2017 by Amnesty International and Prize for Freedom Awardee by Liberal International. Philstar.com/AJ Bolando, File
De Lima again hailed as a 'leading global thinker'
(philstar.com) - December 5, 2017 - 7:58am
MANILA, Philippines — For the second consecutive year, American magazine Foreign Policy named Sen. Leila de Lima as one of the leading global thinkers of 2017 for publicly denouncing President Rodrigo Duterte's brutal war on drug behind bars.
"From the beginning, de Lima knew how dangerous her unfettered criticism of her country's leader might prove [...] But de Lima has refused to shut up," Foreign Policy Associate Editor Benjamin Soloway wrote.
In a speech delivered by Foreign Policy Editor in Chief Jonathan Tepperman on behalf of the detained senator, De Lima said nothing can silence her.
"No high concrete walls, barbed wires or caged environment can silence me. I remain free in spirit, and unbroken. I'm not giving up on the cause of truth, justice and human rights," she wrote.
De Lima added: "To the world, keep watching the Philippines."
Her Chief of Staff Fhillip Sawali received the plaque of recognition on behalf of the senator, who is currently detained at the police headquarters in Camp Crame.
Malacañang on Tuesday said it respects the decision of the magazine to include De Lima as one of the 50 leading global thinkers of 2017.
"C'est la vie (That's life). But as far as the Philippine authorities are concerned, she stands charged of serious charges and in fact no bail recommended for her provisional liberty," Presidential Spokesperson Harry Roque said in a press briefing.
READ: De Lima among 'leading global thinkers' for standing up vs Duterte
De Lima first received the award in 2016 "for standing up to an extremist leader."
Malacañang last year cast doubt on the criteria used by the magazine for its selection of global thinkers, adding that De Lima's award "does not diminish the fact that the drug trade proliferated in the New Bilibid Prison during her stint as Department of Justice secretary.
Sen. Richard Gordon also downplayed the citation, saying De Lima was just "fishing award to get credibility."
This year's leading global thinkers include South Korean President Moon Jae-in, United Kingdom Labor Party leader Jeremy Corbin, French President Emmanuel Macron, among others.
Foreign Policy selects a distinguished roster of people who have made an important impact on fields such as politics, diplomacy, science and the arts.
Early this year, De Lima was also recognized as one of 100 Most Influential People by Time Magazine, one of the notable Women Human Rights Defenders in 2017 by Amnesty International and Prize for Freedom Awardee by Liberal International.
The senator, an outspoken critic of the administration, was accused of protecting and coddling drug traders inside the New Bilibid Prision during her stint as Justice secretary.
De Lima is facing three counts of violations of the Comprehensive Dangerous Drugs Act of 2002. She has repeatedly denied the charges.