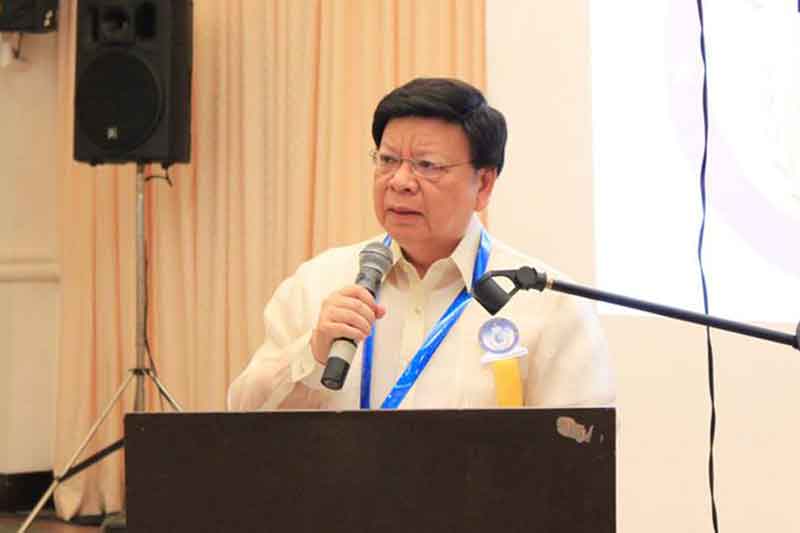 Rep. Rodante Marcoleta (SAGIP party-list) grilled lawyer Jocelyn Fabian, head of a TWG under a special committee on retirement, on the supposed delay of pension release to surviving spouses of justices and judges. 1SAGIP partylist Facebook
'Court felt need for thorough examination of pension application'
(philstar.com) - December 6, 2017 - 1:30pm
MANILA, Philippines — The House of Representatives justice committee on Wednesday zeroed in on the technical working group focused on the release of pensions of retired justices and their widows.
Lawyer Jocelyn Fabian, head of a technical working group under a special committee on retirement, faced the House Committee on Justice to shed light on the supposed delay of pension release to surviving spouses of justices and judges.
Chief Justice Maria Lourdes Sereno, Senior Associate Justice Antonio Carpio and Associate Justice Presbitero Velasco ordered the creation of the Special Committee on Retirement and Civil Service Benefits.
Under the Committee, Sereno ordered the creation of two technical working groups in 2015 and 2016. Fabian said that she was part of the two technical working groups.
Lawyer Larry Gadon claimed that Sereno committed culpable violation of the Constitution when she "delayed action of petitions for retirement benefits of justices and judges and surviving spouses."
READ: Marquez: Creation of retirement panels slowed resolutions on benefits
Sereno, in her verified answer, said: "[C]hanges in procedure and processes were adopted to help ensure the prompt action on applications and consistent rulings and grants."
Rep. Rodante Marcoleta (SAGIP party-list) lamented that the benefits are supposed to be awarded to people who are 80 to 90 years old.
Why was the technical working group created?
Fabian, however, said that: "We need to remember, from our perspective, we are also tasked to be fiscally responsible."
She added that the committee was tasked to thoroughly evaluate the application as it is tasked with distributing money from the nation's coffers.
Fabian implored that it was the court that "highlighted inconsistent applications on previous retirement applications."
Court Administrator Midas Marquez on Tuesday faced the House panel and said that no application was approved by the technical working group in almost two years.
Marquez said that he sent letters to Sereno asking to expedite action on 28 survivorship pension applications. He lamented that before the technical working groups were created, it only took two weeks for an application to be approved.
In time with impeachment?
Marcoleta also raised the issue that after the impeachment proceeding has started, there has been a series of approval of retirement benefits from the committee.
Fabian was firm in saying: "We beg to disagree. It's not true the TWG on benefits only acted because of the impeachment complaint."
She added that the technical working group had 129 applications for approval, while the cases presented by Marquez during Tuesday's hearing "have legal issues."
The House justice panel is on its sixth day of deliberation on the impeachment complaint against Sereno by Gadon.
READ: Sereno not liable for widow's delayed pension – SC spokesman