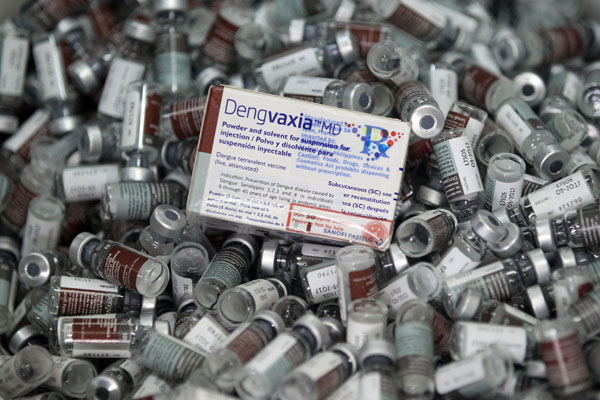 The monitoring will last for five years even if the children do not display symptoms of dengue, Health Secretary Francisco Duque III said Thursday. The STAR/KJ Rosales
DOH orders 'enhanced surveillance' of students given Dengvaxia
(philstar.com) - December 7, 2017 - 3:17am
MANILA, Philippines — The Department of Health will administer mandatory surveillance of students given Dengvaxia, which has been found to be potentially harmful to those who had no prior dengue infection.
The monitoring will last for five years even if the children do not display symptoms of dengue, Health Secretary Francisco Duque III said Thursday.
"We're gonna do enhanced surveillance. Under the enhanced surveillance, we're going to ensure that a mandatory history-taking on the immunization of those children vaccinated be done on record," Duque said on ANC's "Headstart."
DOH will also conduct mandatory reporting of all hospitalization cases of those who were vaccinated.
The DOH, under the Health Secretary Janette Garin, launched the dengue immunization initiative in Regions III, IV-A and National Capital Region—the three highly endemic regions—in April 2016.
Over 700,000 people received at least one dose of the vaccine. Those at risk are some 70,000 children.
The World Health Organization on Wednesday denied recommending that the DOH use Dengvaxia. It said the Health department rolled out the vaccines before WHO's advice became available.
READ: WHO: DOH began dengue immunization prior our advice
Deaths attributed to vaccine still being verified
Duque said the alleged deaths due to Dengvaxia are still subject to validation.
"My people from the DOH told me that these children had pre-existing conditions. The one had a serious cardiac problem, while the other one, if I recall but this is still subject to validation, had acute gastroenteritis," he said.
He also noted that the children were buried without an autopsy being performed.
On Monday, Sanofi Philippines medical director Ruby Dizon said there has been no reported death, contrary to the claim of the Volunteers Against Crime and Corruption that three have already died.
READ: Sanofi, DOH allay dengue vaccine fears
DOH immediately placed the government's dengue vaccination program on hold following the announcement of French pharmaceutical firm Sanofi Pasteur that the vaccine poses risks to those who were not infected by dengue virus before.
The Food and Drug Administration on Monday ordered to stop the sale and distribution of Dengvaxia and the withdrawal of stocks.
READ: DOH suspends dengue immunization program over potential health risk